Romeo Miller Announces The Birth Of His Newborn Daughter!
The new father made the surprise announcement via Instagram on Monday (Feb. 14).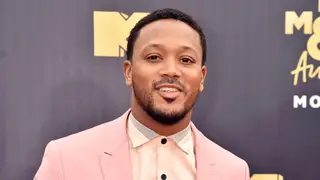 Romeo Miller is officially a girl dad! The new father made the surprise announcement via Instagram on Monday (Feb. 14). Keep scrolling to see the birth announcement, plus find out what we know!
"It's been hard to hold this in, but it was important for us to make sure our baby girl got here safe and healthy before making any announcements to the world during this sacred journey. Psalms 127:3 Behold, children are a heritage from the LORD, the fruit of the womb a reward," Romeo captioned a 39-second video with the mother of his child Drew Sangster.
He continued, "My great granny always said if you live long enough, you'll realize that everything (and the best things) are on God's time, never yours. The best Valentines ever. Been waiting for this moment my entire life. Thank you @drewsangster. 💕 I'm a #GirlDad babbbbbyyy."
ICYMI: Romeo and Drew have reportedly known each other for some time. The Shade Room reports that Drew sent Romeo a book to read each month amid the pandemic. She also sent him a handwritten letter of 138 reasons why she was happy that she met him, along with a Thanksgiving invite. 
Although very private about his love life, Romeo confesses that he read these kind gestures as a sign to go forward with the relationship.
While no other details were provided in the announcement, we can tell that the first-time dad is elated about the birth of his baby girl. We will keep you updated as information becomes available about the newborn's name and birthdate.
In the meantime, join us in congratulating the couple on their growing family!