Jada Pinkett Smith Took The #DMXChallenge And Absolutely Destroyed It
Twitter has crowned a winner.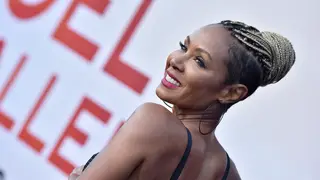 Black Twitter has been having its fun with DMX's 1999 Sisqo-assisted single "What They Really Want" via the viral #DMXChallenge. During the four-minute record, there's a memorable 30-second breakdown during X's second verse where he drops a roll call of all his sexual conquests. 
"There was Brenda, LaTisha, Linda, Felicia / Dawn, LeShaun, Ines, and Alicia / Teresa, Monica, Sharron, Nicki / Lisa, Veronica, Karen, Vicky / Cookie, well, I met her in a ice cream parlor / Tonya, Diane, Lori, and Carla / Marina, Selena, Katrina, Sabrina / About three Kims, LaToya, and Tina / Shelley, Bridget, Cathy, Rasheeda / Kelly, Nicole, Angel, Juanita / Stacy, Tracie, Rohna, and Ronda / Donna, Ulanda, Tawana, and Wanda," the Yonkers-born legend raps.
Participants in the challenge have mostly used it to show how many looks they can pull off by changing pics of themselves with each name the rapper mentions. Holding out for the longest, Jada Pinkett-Smith finally decided to hop in, and her version may be the web's best.
"I wanna play tooooo #DMXchallenge," the actress and podcast host captioned her video, which is below.
Many of the videos and pictures in her challenged came from her many roles in movies, even including the Hippo from Madagascar.

The reaction to Jada's #DMXchallenge had people laughing like crazy. See what people had to say below.