Supreme Court To Hear Two Critical Challenges To Affirmative Action Involving Harvard And University of North Carolina
The long-standing diversity promoting practice comes under the most scrutiny it has seen in years.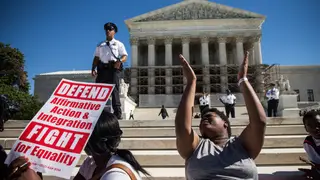 The U.S. Supreme Court said Monday that it will hear two cases that challenge race-based admissions policies at Harvard University and the University of North Carolina, which puts future applications of affirmative action in education at risk.

Higher education institutions have been using affirmative action standards since the late 1960s to consider students whose racial and ethnic categories have been traditionally underrepresented. Proponents have long argued that it has benefitted diversity on college campuses and in turn, helped benefited people of color in general through educational opportunity.

However, enacting affirmative action policy has not been without its challenges. In 2016, for example, the Supreme Court decided that a white woman who sued the University of Texas over its affirmative action program was not discriminated against because of her race. She, however, contended that using race as a classification for college admissions was unfair and unconstitutional.
Further back, in 1978, a case against the University of California in which a white man sued claiming discrimination, became one of the landmarks of the American justice system. The court upheld affirmative action in that instance, but it has been the subject of legal contention ever since.

These newest challenges are likely to bring those and other affirmative action cases to the forefront again as many conservatives have been adamant that it is unfair, and it comes as Republican politicians are being accused of attempting to use Critical Race Theory to control what is taught in public schools.

In the Harvard case, a group called Students for Fair Admission accused the school of holding Asian-American students to a higher educational standard than it does African American or Hispanic students. "Harvard engages in racial balancing and ignores race-neutral alternatives also proves that Harvard does not use race as a last resort. All of this makes intervention that much more urgent," the court filing for the plaintiff reads.

A judge in Boston and subsequently the 1st U.S. Circuit Court of Appeals ruled in favor of Harvard, which argues that race can be used to create a more broad and diverse mix of students on campus. Harvard's approach in the 1978 case against the University of California has long been looked at as an example of successful application of affirmative action.
In the University of North Carolina case, again Students for Fair Admission claim that the school discriminated against white and Asian-American applicants by favoring the admission of Black, Hispanic and Native American students. "The question is not whether race-neutral alternatives will change an institution, or whether the university finds them painful or philosophically disagreeable. The question is whether race-neutral alternatives 'could promote the substantial interest about as well and at tolerable administrative expense,' " the plaintiff says in its filing which was submitted the same day as the Harvard case.

UNC's affirmative action policies and practices were upheld by a trial judge in October 2021, but the group filing the complaint pushed to get the high court to hear the case without waiting for an appellate court to respond.


The Supreme Court has had a more conservative makeup in the last few years and six of its nine justices are looked at as being in that category including Chief Justice John Roberts, Trump-era nominees Brett Kavanaugh, Neil Gorsuch, and Amy Coney Barrett. And then there's Justice Clarence Thomas who has no record of being friendly toward affirmative action.

Groups that watch cases like this are frustrated by the actions of SFFA, which is led by Edward Blum, a conservative legal strategist who routinely files lawsuits to fight against affirmative action and voting rights policies. The NAACP Legal Defense Fund is among those speaking out against the challenges to the university practices and say they have been beneficial to the students and to the aim of diversity in general.

"Holistic, race-conscious admissions programs enable Harvard University, the University of North Carolina, and other colleges and universities to bring together people of different backgrounds to learn from one other," NAACP LDF President and Director-Counsel Sherrilyn Ifill said in a statement.
"Holistic admissions also help mitigate systemic barriers to educational opportunities faced by many Black students and other students of color, ensuring that all hard-working and qualified applicants receive due consideration."

Arguments are expected to begin during the Supreme Court's next term, which is set to begin in October, but a decision may not come until mid-2023.