9/11 20 Years Later: Two Sons Reflect On The Loss Of Their Heroic Father
NYS Court Officer Capt. William Thompson sacrificed his life by running into the World Trade Center when it collapsed to help save others. Now, in an exclusive interview with BET.com, his two sons speak about their father's legacy.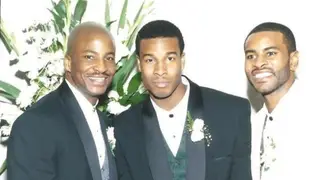 It was a sunny late summer morning on Tuesday Sept. 11, 2001, a routine one for most of New York City when Capt. William Harry Thompson, a 27-year veteran with the New York State Office of Court Administration, reported for work. He taught at the court officers academy in lower Manhattan. He was a friendly man, easily engaging with observable leadership characteristics.
But at 8:46 a.m., American Airlines Flight 11, carrying 87 passengers and crew, and 20,000 gallons of jet fuel crashed into the North Tower of the World Trade Center, several blocks away from the academy. Then about 18 minutes later, United Airlines Flight 175 flew out of the morning sky, careened towards the South Tower, smashing into it. By this time, everyone watching knew this was no accident, but rather a terribly deliberate attack.
Thompson, 51, did not hesitate to rush toward the danger as everyone stood in the street in pure shock. His only thought at the time was to help along with the small army of firefighters and police officers who had arrived on scene. During the chaos in New York, the news wires soon picked up word that American Airlines Flight 77 had crashed into the Pentagon and a fourth plane, United Airlines Flight 93 crashed into a Pennsylvania field.
It is unclear how many people Thompson helped to rescue, but in his efforts to save lives, the South Tower, where he had run into, collapsed at 9:59 a.m. About 30 minutes later, the North Tower did the same, leaving a cloud of smoke and debris that could be seen for miles around. The event has since been cemented as an immutable gateway through history.
Thompson's two sons, Rahsaan and Michael, along with the other families of the 2,996 victims who succumbed to the chaos of that hellish day, have to relive the events every year. For the Thompsons, it's a repeated loop of what happened to their hero, a man who also became a hero to many others. 
Now, two decades later, the reality is still there for them, but so is the solace of knowing that their dad was the man to so many in death that he had been to them in life.
"That was who our father was, very selfless, very loyal, a very caring parent, a friend. He meant a lot of things to many people," said Thompson's son Michael in an exclusive interview with BET.com. "There was only one thing on my father's mind and that was to save lives. He was in civil service and one of the oaths that you take in that vocation is protecting and serving, so that was part of his job description.
"But that was, more importantly, just who he was as a human being...and certainly that's echoed throughout not just New York City but the United States as well," he said.
Thompson was one of 71 law enforcement officers who were killed at the World Trade Center. In addition, 343 firefighters were lost that day as well. Along with him, Senior Court Officers Mitchell Wallace and Thomas Jurgens also perished, magnifying the loss. The New York State Court Officers training facility in Brooklyn was renamed and dedicated in their honor in 2018. The Captain William Thompson, Sergeant Thomas Jurgens and Sergeant Mitchell Wallace Court Officers Academy provides training to some 4,000 state court officers today.
But for all the memorials, honors and dedications, including a softball classic event (which the brothers hope to restart) each year that has passed has also been a reminder of the gap left by their father's absence. And because of the way he died, it's almost a double sword of pain.
"I think for my brother and I each time Sept. 11 comes around it's like we're reliving it," said Rahsaan Thompson. "It doesn't change. That emptiness is still there, so every time we go through a Sept. 11 anniversary, it always feels like it happened yesterday, so it's something that never goes away completely."
Michael expounded on that, giving a broader view of how their personal tragedy is linked to the nation's grief.
"What made this event odd from a mourning standpoint is that traditionally, when you lose a loved one, especially a parent, that's something that's very private," he explained. "This was the exact opposite, whereas not just us but the entire country was grieving. So, certainly all of the commemorative events, annually, it's something that, unfortunately, kind of unearths a lot of anxiety, a lot of frustration, a lot of tears, especially knowing that we're doing it with so many other families that lost loved ones that day."
Remember The Times

Twenty years have passed since that horrible day, which spurred war in Iraq and the recently ended Afghanistan war. The impact of 9/11 has become global, and for the Thompson brothers, the effect has made them part of a special group of Americans who have a public light shone on them because of their intimate connection to the attacks. Still, Rahsaan says that while he feels the push of the thrust into the public eye, it has never weighed negatively on his family nor caused them to retreat into their grief.
"For the most part, people who witnessed the tragedy, they want to be there to kind of embrace you," he explained. "So, I've gotten nothing but warm wishes from people who were complete strangers and for those who were my friends. The fact that my dad made such a heroic move to save thousands, the way people look upon that is just remarkable, and they just wanted to be there to share the embrace with us."
As with Pearl Harbor, the assassinations of several important public figures in the 1960s, and other tragedies that marked national history, the country has sought a way to heal from the 9/11 attacks. The generation that were small children that day are now young adults, with little to no actual memory of what happened outside of what they've read online or in textbooks.
But the Thompsons, both fathers themselves now, say they continue to manage their loss day-by-day. Capt. Thompson's body was recovered in 2002 and the healing process for their family began from there.
"If you want to call it closure, at least we were able to provide somewhat of a ceremonial type of burial, which is an opportunity I wish all families were afforded," said Michael Thompson. "Because I cannot think of 20 years later not physically being able to remove your loved one from Ground Zero.
"But that being said," he continued, "what my brother and I and our family have tried to do is conform to our new normal because he left a tremendous void throughout our entire family, not to mention colleagues in the workplace. It's a void that can never be filled but nonetheless what sustains us is the things he taught us over the years and that's something that we try to pass on to our children."