Civil Rights Leader Rev. Willie T. Barrow Dies at Age 90
The civil rights community mourns the loss of an icon.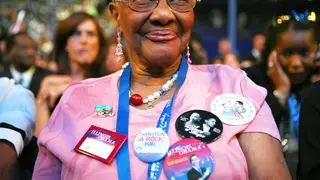 Rev. Willie T. Barrow, civil rights leader and a co-founder of the organization that evolved into the Rainbow/PUSH Coalition, died on March 12 at age 90.
Barrow led her first civil rights protest in 1936 at age 12 in her hometown of Burton, Texas, against the unequal treatment of Black students who were forced to walk to school while whites rode on a bus. At age 16, she attended a seminary in Portland, Oregon, where she opened an African-American Church of God.
Years later, after marrying and moving to Chicago, Barrow became a field organizer for the Southern Christian Leadership Conference and participated in the historic March on Washington and the 1965 march from Selma to Montgomery, Alabama. She also organized protesters to participate in marches and demonstrations around the nation. Brown also fought for labor, women's rights and gay rights.
"Nowhere was Rev. Barrow's impact felt more than in our hometown of Chicago. Through Operation Breadbasket, the Rainbow/PUSH coalition, and her beloved Vernon Park Church, she never stopped doing all she could to make her community a better place," President Obama said in a statement. "To Michelle and me, she was a constant inspiration, a lifelong mentor, and a very dear friend. I was proud to count myself among the more than 100 men and women she called her 'Godchildren,' and worked hard to live up to her example.  I still do."
Barrow was affectionately known as the "Little Warrior" because she was small in stature, but fierce in her fight to protect the rights of all people.
BET National News - Keep up to date with breaking news stories from around the nation, including headlines from the hip hop and entertainment world. Click here to subscribe to our newsletter. 
(Photo: Melanie Stetson Freeman/The Christian Science Monitor/Getty Images)