Megan Thee Stallion Ex-Bodyguard Guard Mysteriously Disappears Ahead Of Court Appearance, Police Say
Justin Edison was scheduled to testify this week in the ongoing Meg and Tory Lanez trial.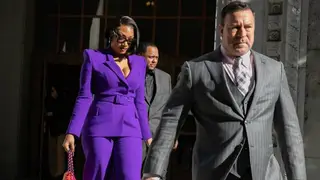 Justin Edison, a key witness in the trial, has disappeared, according to TMZ. However, he's not marked as a missing person as of right now.
Meg's attorney, Alex Spiro told the outlet Saturday (Dec. 17) in a statement, he said, "We recently learned that Justin Edison went missing right before he was scheduled to appear in court. The LAPD is currently looking into his disappearance and welcome any information about his whereabouts."
Edison is the guy that Meg's best friend at the time, Kelsey Harris, texted roughly five minutes after the shooting took place.
Prosecutor Alexander Bott presented a visual of "a series of text messages" that Harris sent the ex-bodyguard.
"Help," "Tory shot Meg" and another message saying "911."
It is uncertain at this point if Tory's driver, who was also in the car that 2020 summer night, will testify. Edison was set to be a critical component to connecting pieces laid out by Harris.
Attorney Spiro suggests that "foul play" may be on the rise. LAPD have yet to confirm whether there's an active search for Edison.