'Imagine If Biden Made This A Reality For All Students': Pharrell Williams Clears Student Loan Debt Of NAACP Youth Leaders
He surprised the five leaders on Friday (June 17) during a Black student debt crisis panel event.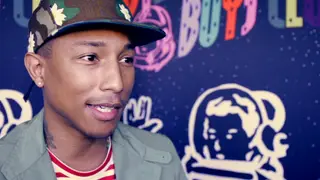 As student debt continues to be a plague on Black communities, Pharrell Williams has stepped in to provide much needed assistance.
According to HuffPost, the 'Something In The Water' festival creator surprised five NAACP youth leaders on Friday (June 17) by announcing he'll be paying off their student debt.
Two seniors and one junior are now debt-free.
The surprise was announced during a Washington D.C. panel event addressing the Black student debt crisis, which was organized by the NAACP.
There was a range of emotions that overcame the faces of the youth leaders: smiles, joyful tears, sighs of relief and shock.
NAACP national director of youth and college, Wisdom Cole, called Pharrell's gesture a "powerful" one.
Cole is hoping Pharrell's generosity will spawn encouragement for President Joe Biden to make his decision on handling student debt.
Over the coming months, the 46th President of the United States is expected to make an announcement on his plan to clear up to $10,000 of student debt to those with qualifying income.
"Imagine if President Biden made this a reality for all students. Student debt continues to disproportionately plague the Black community and crush opportunities for so many Black people," Cole said to ABC's WJLA-TV.
Last weekend, Pharrell gifted graduating D.C. high school students free passes to his music festival, which spans three days (June 17-June 19).