How Teen Baseball Phenom Justin Best Is Making His Field Of Dreams Become A Reality
The North Carolina native is a commit to Division I Florida State, but hopes to make the Majors one day.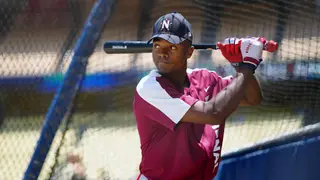 Like a lot of elite youth athletes, Justin Best didn't originally set out to play the sport that he now stars in. The Cornelius, N.C., teen loved golf when he was small, which was more than a pastime for his father. 
But by the time he turned six, though, Best discovered a new love: he wanted to play baseball, a sport that for years has been in decline among young Black American athletes while only growing its popularity among Afro-Latino players.
Best's father Rick, an Army veteran, saw an opportunity: If he could impart the discipline he'd absorbed in the military and combine it with his young son's interest in being on the diamond, it could lead to good outcomes. He wasn't wrong.

"Sometimes you can push kids in the direction you think they should be going," said Rick Best. "I pushed him toward golf, but sometimes kids will be resistant and do what comes naturally."

Baseball was what Justin naturally gravitated to and continued to excel in until during a travel league game, he showed real signs that he would be a phenom. "When he was 12 he hit 46 home runs in a season and that's when we started to take it more seriously."
By the time he was an eighth grader, Best was so good at baseball that he already had offers to play in college at the Division I level. He committed to playing at Florida State University when he starts his freshman year next fall and is one of the country's top baseball prospects playing in the middle of the outfield.
"I knew I had the talent to go play at a Power Five school, so I said, 'why not figure out my future this early?'" said Justin, adding that Vanderbilt and Florida State were always among his favorite college programs.
"When your favorite school comes knocking on your door, it was an unbelievable opportunity so we took it," Rick Best, added. "If it had been another school that didn't fit his profile or didn't fit our family's desire to attend, I'm sure it would have been a longer process."
Justin Best is already growing into his abilities, literally. At age 17, he stands six-foot-three, lifting weights daily to beef up and strengthen his 190-pound frame. His near daily workout includes leg curls, dumbbell presses, bench presses, squats, lunges and abdominal exercises.
That work has helped the left-hander land an "excellent" rating for arm strength, hitting and power by Baseball Factory, a training facility for elite youth baseball players. It also landed him spots in the Perfect Game All-American Classic and MLB High School All-American games this Summer.

"Best has a very bright future ahead of him in the game," Baseball Factory's scouting report on the teen summarizes. It is apparently the result of his father knowing how to hone his talents at the right time.

"One of the things I did to keep Justin interested in baseball was to always put him on the field against the best players in the country and that within itself kept the internal drive going," said Rick Best.
But being a hitter is what Justin says is his favorite thing about playing and for good reason.

"I love hitting most about baseball because for me hitting is my bread and butter and I get to show people I'm really that guy with the stick," he explained. "My father drew it to me at such a young age by teaching me everything I know and he has guided me this whole journey thus far."
He is climbing baseball's pecking order while the sport's popularity among young African American athletes–at least as reflected by Major League Baseball Rosters–is at its lowest point in decades.

Players of color made up 38 percent of all MLB rosters at the start of the current season but the largest chunk of that group–28.5 percent–were Latin-American born players. Black players born in the U.S. made up only 18 percent of the league, according to a report from the Institute for Diversity and Ethics in Sport.

That the number of African American players in MLB has gone down in recent decades is not lost on Justin. He looks at  himself as part of a new generation of American-born Black players coming back to the game.

"I see myself starting a new trend because I'm trying to see more and more of us loving the game and it will continue to grow," he said.
But for Justin, getting to this level wasn't without challenges, particularly over the past two years, when he and other top prospects lost an entire season to the Covid-19 pandemic. He wasn't deterred, maintaining a 3.8 grade point average at Combine Academy in Lincolnton, N.C., and staying in shape as well as focused on his ultimate goal: to be taken in the first round of the MLB draft.

There were also groups Justin participated in that helped him along the way that bring in elite young baseball players and prepare them for the next level, including the Elite Development Invitational with leaders like Dale Matthews and Kindu Jones, the Hank Aaron Invitational, the MLB's Dream Series, and Breakthrough Series.

With a bright future, he also talked about those he looks up to from both the present and the past.

"I admire [Philadelphia Phillies right fielder] Bryce Harper right now because the way he carries himself on and off the field," he said. "From the past it would be Jackie Robinson because he paved the way for Black players to play baseball."

His love of the game, he said, makes being on the field a place of respite, where, "I can really just let go and play the game."
"I don't care who takes me," he said. "It'd just be a blessing to play professional baseball so that's what we're aiming for."