Lauryn Hill Set To Perform On Tom Joyner's 2023 Fantastic Voyage Cruise
Charlie Wilson and Stevie Wonder are also slated to perform.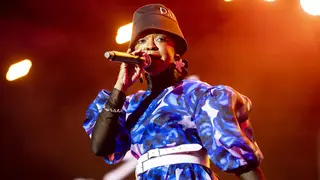 Singer Lauryn Hill is set to perform on the Tom Joyner Foundation's Fantastic Voyage Cruise in 2023.
The popular radio show veteran shared the news on Instagram on November 23.
"The rapper, singer, songwriter, actress and producer Ms. Lauryn Hill is doing her part by joining the 2023 Tom Joyner Fantastic Voyage to help Tom raise money to keep kids in school at Historically Black Colleges and Universities. If you want to party with a purpose in May 2023, get your cabin today by calling (214) 495-1963 or go to FantasticVoyage2023.com! Don't get left behind!"
The Royal Caribbean cruise will take place from May 20-27 and will depart from Fort Lauderdale and head to Mexico, Grand Cayman Islands and Jamaica.
The 2023 cruise, which raises funds for scholarships for students at HBCUs, varies in price. Fans' and supporters' fare range from $3,174 to almost $9,000. A $500 deposit is required for each individual occupying the chosen cabin.
Legendary acts like Charlie Wilson and Stevie Wonder are also set to perform on the Fantastic Voyage cruise.
According to the Tom Joyner Foundation's official Facebook page, the charity cruise is 85% sold out.
"The Tom Joyner Foundation Fantastic Voyage 2023 is over 85% sold! It's time for YOU to experience this true ICONIC PARTY with a PURPOSE!  Enjoy theme nights, the parade on the Promenade, or enjoy Fun In the Sun in Cozumel, Grand Cayman and Jamaica.  If you want to party with a purpose in May 2023, get your cabin today by calling (214) 495-1963 or go to FantasticVoyage2023.com!"