Update: Wu-Tang Affiliate Popa Wu Says He's Cool With Action Bronson
Popa Wu clears the air about his confrontation with Action.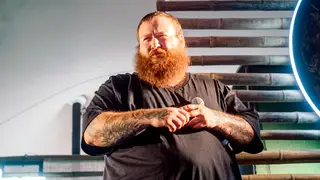 UPDATE: Last night, MTV News reached out to Popa Wu and got his side of the story. As we probably expected, it was all a misunderstanding. Wu says the Internet blew the photo out of proportion and he was simply talking to him as a father giving advice on watching what you say. He also wanted to make it clear that there was no disrespect during their meeting, especially since it happened at Sean Price's wake.
"He had a lot of respect. That's why I don't want nobody to blow it up. He looked at me and he looked like he was looking at his father," he adds. "He had respect. They're looking at it in a different way. He just had respect for me. That's what it was. Everybody else looking at it different. That's why his face looked like that. He met Popa Wu. Come on. You know how people look up to me." ________________________________________________________________________________________________
CLICK FOR AZEALIA BANKS WEIGHS IN ON ACTION BRONSON/GHOSTFACE BEEF
Popa Wu had a face-off with Bronson during a wake for Sean Price in Brooklyn, and posted photographic proof on Instagram. "This wat we do I'm 4 real Popawu u F*k with my mine u get Chestties Wu 4ever, " he wrote with the image. 
Though we don't know exactly what Popa Wu said, Bronson looks completely caught off-guard (and maybe a little intimidated) by the confrontation.
You really can't blame the man for defending his Wu brethren, but Ghostface thought the timing was inappropriate. 
Bronson hasn't said anything on the subject, which is probably best. 
Watch BET.com's The Warm Up below.
Click here to enter the #LookYourSundayBest contest for a chance to win FREE natural hair-care products.
BET.com is your No. 1 source for Black celebrity news, photos, exclusive videos and all the latest in the world of hip hop and R&B music.

(Photo: Joseph Okpako/Redferns)