Yung Miami Grills Diddy About Their Relationship Status
The City Girls rapper wanted to set the record straight about her "entanglement" with Sean Combs.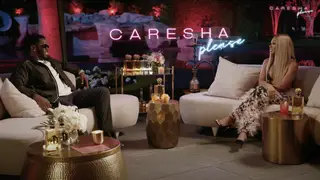 "What we is?" That was the question Caresha Brownlee aka Yung Miami asked legendary music mogul Sean "Diddy" Combs during the premiere of her new REVOLT TV podcast, Caresha Please.
The pair, who've been rumored to be dating for a while now, kept it all the way real and confirmed they have indeed been seeing each other, but…they're both still single.
"We date. We're dating," Diddy explained when Brownlee asked about their relationship. "We go have dates. We're friends. We go to exotic locations. We have great times."
Diddy, who's 52, went on to say that what he likes most about Brownlee, who's 28, is that she's "authentic" and is one of "the realest people I know." He also said she's a great mother, friend, and they have a great time together.
Yung Miami agreed with Diddy's assessment of their friendship, echoing that she is also single and dating. But she did tell the Bad Boy CEO they "go together — real bad."
This sit down comes just a few weeks after the pair found themselves trending on social media when model Gina Huynh shared a picture of Diddy giving her a kiss, kicking off a storm of subtweets from Yung Miami. When asked how he felt  to be in the middle of social media drama, Diddy called the incident "messy."
"It was just one of those days. I had to polish things up, had to press the reset button, and keep it moving. Because I'm not trying to get messy," he said. "I'm trying to live my life and have a good time."
While they likely won't be walking down the aisle anytime soon — especially since both Yung Miami and Diddy say they're not interested in marriage — it looks like the City Girl and the Bad Boy will be enjoying each other's company for a very long time.