Young Thug Gifts 21 Savage A $150K Custom Truck
21 Savage turned 29 on Oct. 22 and threw a Freaknik-themed birthday bash in Atlanta.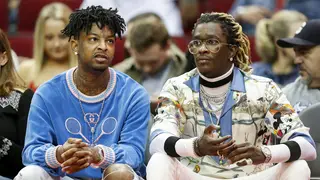 On Friday, Oct. 22, 21 turned 29 and was gifted a pricey gift from Thugger. The gift exchange happened at his Freaknik-themed party in Atlanta, where 21 received a fire red pickup truck from the "Slime City" rapper that cost $150,000, according to TMZ.
The exterior of the swagged-out custom truck features dagger logos, 21's signature face tattoo, a "21" logo painted on the front car door. The interior of the car has 21 Savage's face stitched into some of the seat's headrests, and a blinged-out ceiling with 21 embellished in the middle.
TMZ reports that the luxury car dealership that whipped up 21's fancy car was Roadshow International in Atlanta, and only had three days to work on the truck.
Before all of the bells and whistles were added to the Dodge Hellcat TRX, the base price for the new models can range from $60K to $72K.