Super Bowl LVII Countdown: Top 5 Halftime Performances Of All Time
There have been some very memorable ones, especially as of late.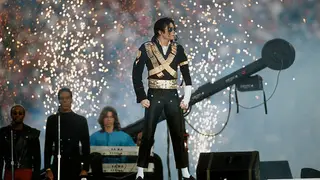 While not everyone loves football, the Super Bowl does bring people together for so many reasons. The family and friends, the food, the commercials, and yes, the game. But there's one other spectacle that has people talking about more than Xs and Os – the halftime show.
This year, Rihanna will be gracing the Super Bowl LVII Halftime Show stage – building up to being one of the most anticipated in recent memory. The Rihanna Navy is hoping that the occasion will have her debuting new music and the start of an upcoming world tour – that is, if anyone has any coinage left from buying Beyoncé tickets.
Regardless, millions and millions of people will be watching RiRi take to music's biggest stage on Sunday (February 12), which begs the question: which of the all-time Super Bowl performances are the best? BET.com has compiled a top 5 of the best and most memorable super bowl halftime performances ever. Take a look at our picks below.
Janet Jackson & Company (2004)

Tom Brady may have won his second championship during Super Bowl XXXVIII, but that's not what everyone remembers from this one. Actually, the halftime performance set itself is largely forgotten outside of the Justin Timberlake-caused "wardrobe malfunction," but it really was spectacular. Overall, the performance included a collaboration of luminaries from the early 2000s, including the singing legend, NSYNC member and Diddy, Nelly, Kid Rock and Jessica Simpson. The six stars performed hits like "Bad Boy for Life", "All for You", "Mo Money Mo Problems," and "Hot in Herre", among others. They were also accompanied by the Spirit of Houston marching band and Ocean of Soul marching band who killed it in their own rights.

Dr. Dre, Snoop Dogg, Eminem, Mary J. Blige, Kendrick Lamar & 50 Cent (2022)

Albeit the most recent Super Bowl halftime show prior to Sunday's, last year's set featuring west coast rap royalty finally gave hip-hop its due on the biggest stage. Crisp production, banger after banger and numerous surprises had everyone holding their breath for the next moment. Taking place in Los Angeles at SoFi Stadium, it only made sense that the west coast's finest (and 50 Cent and Eminem) brought it all. And they certainly did.

Beyoncé & Destiny's Child (2013)

If you thought a "wardrobe malfunction" would be the only time football's biggest game would have its halftime show distract from the music, you'd be very wrong. During Super Bowl XLVII, Beyoncé, along with Kelly Rowland and Michelle Williams performed bangers like "Bootylicious," "Single Ladies" and "Independent Women" before Bey herself sang solo favorites like "Crazy in Love" to "Baby Boy." The production was so extravagant for their set that it blew out half of the lights at the Louisiana Superdome for over 33 minutes shortly after it was over.

Michael Jackson (1993)

Still relatively early on in MJ's career, the King of Pop's performance at Super Bowl XXVII proved he was always ahead of his time. While Jackson didn't delve too deep into his then-already long list of chart-topping hits, he did perform "We Are the World" with a children's choir before "Heal the World" while a huge globe inflated at center stage. He also moonwalked across the stage while performing "Billie Jean" so, yeah, it's hard to get much more legendary than that.

Prince (2007)

He performed "Purple Rain" in the literal rain. Oh yeah, and he did mashups of Queen's "We Will Rock You", Foo Fighters' "Best of You" and Bob Dylan's "All Along the Watchtower" with his own songs. Enough said.