65th Annual Grammy Awards: 5 Quintessential Songs By Jack Harlow
The Kentucky rapper is up for three Grammys, including 'Best Rap Song' and 'Best Rap Album'.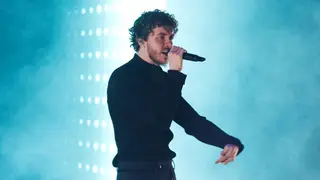 The 2023 Grammy Awards ceremony is fast-approaching, and in preparation for this year's big event, we're getting folks geared up and ready for their favorite artists to take home some hardware.
It's music that ties everyone together, and sometimes, you just need a little trip down memory lane in remembrance of why those nominated are so talented. For us, it's just putting together a little tribute to those who get us through the daily grind or are a point of relaxation when chillin' around the crib or riding around in the whip.
Jack Harlow is among the hip-hop crop who received Grammy noms. The Kentucky rapper earned three nods, including for Best Rap Song, for "Churchill Downs"; and Best Rap Album, for Come Home The Kids Miss You.
To commemorate, BET.com has compiled five quintessential songs by Jack Harlow (see below).
"WHATS POPPIN (Dababy, Tory Lanez, & Lil Wayne)" (2020)

Perhaps putting Jack Harlow on the commercial map, the star-studded "WHATS POPPIN" showcased the Louisville native's serious and smooth lyrical ability while also becoming one of the biggest hits of 2020. The song also earned Jack a Grammy nomination for Best Rap Song that year.

"Tyler Herro" (2020)

A strong single follow up to "WHATS POPPIN", "Tyler Herro" pays tribute to Jack's friend and Miami Heat player of the same name. And while it wasn't as big of a hit numbers-wise, it still extended the Kentucky rapper's streak of remaining on the Billboard 100. The song also pays homage to the rest of Harlow's crew, who are both named in the song as well as featured in the video for it.

"Nail Tech" (2022)

The first song Jack Harlow released in 2022, "Nail Tech" features the Kentucky rapper spitting about his own material gain, which includes a wardrobe increase of chains, designer brands, and cars. He also addresses those who still doubt his superstardom, despite the fame, money and numbers he's already been able to put up on the board.

"Churchill Downs (feat. Drake)" (2022)

With the actual music video for the song being shot during the Kentucky Derby, "Churchill Downs" takes Jack's fans back to his native state and describes why Louisville made him the success he now is. Drake also kills his verse and provides an update about how his life is going as of late.

"First Class" (2022)

The standout single from Harlow's 2022 Grammy-nominated album Come Home The Kids Miss You, "First Class" proved Jack's versatility. Over a Fergie-sampled beat, he raps about being able to provide a prospective love interest with all of the G-L-A-M-O-R-O-U-S luxuries his life has brought him. It's also extremely catchy.