Looks Like Jordyn Woods Is About To Spill All The Tea To Jada Pinkett-Smith On 'Red Table Talk'
It's about to get hot in Calabasas.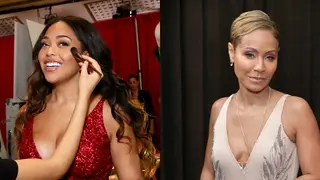 For the past few weeks, the internet has been flooded with claims that Kylie Jenner's BFF, Jordyn Woods, was the woman who allegedly came between Khloé Kardashian and her man, Tristan Thompson.
Now, after remaining relatively mum on the messy ordeal for some time, Woods has taken to social media to tease that she is set to sit down with Jada Pinkett-Smith, and we can probably assume Jada won't let her leave her seat without spilling at least some of the tea.
The once-honorary Kardashian recently took to her Instagram Story where she shared a clip of herself walking through the Red Table Talk Facebook show set. It ended with her taking a seat at the online series' now infamous red table.
While she didn't utter a word in the post, her stoic facial expression has those who were closely following the viral story believing that she may be gearing up to tell her side of the story.