Regina Hall Led An Epic DMV Go-Go Tribute To Open The BET Awards
She had the entire audience feeling like they were from Washington, D.C.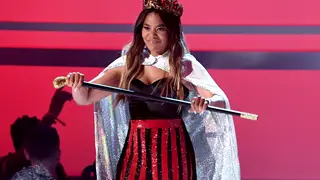 Regina Hall is hosting this year's BET Awards in Los Angeles, but she isn't about to let her time on stage go by without repping her hometown.
A proud Washington, D.C., native, Hall led one of the most impressive Go-Go showcases in recent memory. Live from the Microsoft Theater in Los Angeles, Regina first appeared in a sketch imitating Beyonce during the behind-the-scenes moments of her recent Coachella Netflix documentary.
Then, after stressing the importance of her hometown to the background dancers, she brought Bey's iconic performance to life, appearing on stage with a full marching band while Sugar Bear, from the DMV-based Go-Go band E.U., performed the 1988 hit "Da Butt."
The performance was also in support of #DontMuteDC, a movement started a few months back by Ronald Moten, a D.C. native and Go-Go promoter who brought to light the case of a T-Mobile/record store that played the DMV's homegrown music for years before it was told to cut it off recently by residents of a newly built condo building across the street.

The situation brought to light the battle over gentrification in the nation's capital and the hashtag #DontMuteDC. The problem is systemic among many of the U.S.'s biggest cities and relatable to every urban community across America.

The performance had everyone in the audience lit and social media wastoo. See some of the reactions below.