Bring That Week Back: Nike Stands By Ja Morant, Richard Williams Defends Will Smith And Chaka Khan Apologizes
Plus, Angie Stone says De'Angelo's 'pride as a man' won't allow them to work together again.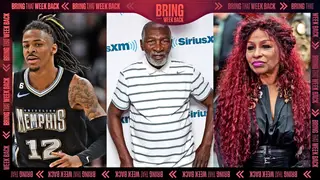 If you missed this week's top news and trending stories, the past seven days have been packed. A controversial actor is retiring. Funk legend Chaka Khan has apologized. Richard Williams, Serena and Venus Williams' father have nothing but love for Will Smith. Here is this week's Bring That Week Back.
Chaka Khan Apologizes

Music legend Chaka Khan went viral last week for her reaction to Rolling Stone's "200 Best Singers Of All Time" list, published in January 2023. She had critiques about Adele, Mariah Carey and Mary J. Blige ranking higher than her – Chaka placed at No. 29. However, the "Queen of Funk" is now apologizing. In a statement on Instagram, she wrote "It was not my intention to cause pain or upset anyone. To anyone that felt this way, I sincerely apologize. Thank you for all the love everyone has shown me, unconditionally." See the full statement above.

Richard Williams Defends Will Smith

This Sunday is the Academy Awards. Last year, Will Smith infamously slapped Chris Rock on the Oscar stage. Just days before the awards show, Richard Williams, 81, the father of Serena and Venus Williams, is now speaking out. Within an hour after the slap, Smith won his first Oscar for portraying the 81-year-old in King Richard. In an interview with the U.K.'s Good Morning Britain, Williams said, "I'll always stand by him. I think he has done the best that he needed to do. But I would never be disgusted with Mr. Smith. Matter of fact, I appreciate Mr. Smith." He also added he saw  "nothing wrong" with what Smith did and believes the 10-year ban issued against Smith should be lifted.  The Academy of Motion Pictures Arts & Sciences has banned Smith for a decade from attending any Academy Award events or programs, in person or virtually.  See the interview above.

Ja Morant Supported From Nike Amid NBA Investigation

Nike appears to be standing beside Memphis Grizzlies star Ja Morant despite an Instagram Live video in which he flashes a gun on camera. "We appreciate Ja's accountability and that he is taking the time to get the help he needs. We support his prioritization of his well-being," Nike said Saturday (March 4), ESPN reported, noting that the athletic sportswear giant has a signature shoe line with Morant. In the video, the 23-year-old point guard was seen shirtless and rapping along with music while holding a handgun with his left hand. The video session was at a nightclub after the Grizzlies' 113-97 lost to the Denver Nuggets. Morant apologized in a statement posted to his Instagram account, saying he takes "full responsibility for his actions" and planned to "take some time away to get help."

Two Americans Dead And Two Back Home After Mexico Kidnapping

Two of the four Americans who were kidnapped March 3 in Mexico survived the violent attack, but the other two are dead, CBS News reports, citing information from Mexican and U.S. authorities. Hours after they were found on Tuesday (March 7), ambulances and SUVs transported the survivors to an international bridge at the U.S.-Mexico border near Brownsville, Texas.  The two survivors have been identified as Latavia Washington McGee and Eric Williams. The two deceased men were Shaeed Woodard and Zindell Brown. All hailed from South Carolina and they reportedly traveled to Mexico for a medical procedure. U.S. Investigators suspect that they were mistaken for Haitian drug smugglers.

Texas Tech Basketball Coach Suspended Over 'Racially Insensitive Comment'

Texas Tech suspended men's basketball head coach Mark Adams for using "an inappropriate, unacceptable, and racially insensitive comment," the university announced on March 5. During a coaching session, Adams, who is white, was encouraging one of his players to be more receptive to coaching by quoting biblical scripture "about workers, teachers, parents, and slaves serving their masters," a statement said. After his comments to the player became an incident, "Adams immediately addressed this with the team and apologized," the statement noted. However, the 66-year-old insists his comments about the master and slave relationship were racist and he denies apologizing, according to Stadium. Texas Tech is also investigating a separate incident in which Adams allegedly spit on a player earlier in the season. Adams told the news site that the incident happened during a game while he had a bad cough. Adams is Texas Tech's  fourth coach in three years. It's unknown when the suspension will be lifted.

New York Senator Chuck Schumer Receives Highest Honor For HBCU Support

U.S. Senate Majority Leader Chuck Schumer, who is a contributor to the United Negro College Fund, was honored with the Frederick D. Patterson Award at the Marriott Marquis in  Washington D.C. for his tremendous support around Historically Black Colleges and Universities. "It's truly an honor to be here with you all," Schumer said in his speech. "And it's deeply humbling to receive such a prestigious award from one of the greatest forces for good in our country."  In 2021, Schumer fought to secure the largest increase in Pell Grants in over a decade, "an increase of $500, pushing the maxim Pell Grant award to nearly $7,400." Additionally, last year, the Senate passed Schumer's historic semiconductor, sciences and tech innovation bill known as the CHIP & Science Bill. Schumer called the act "a true labor of love," adding it "helped expand research capacity for HBCUs and included new funding streams that directly benefit HBCU Stem programs."

Isaiah Washington Is Retiring From Acting

Isaiah Washington, best known for his roles in Grey's Anatomy, Love Jones and Get on the Bus, has retired from acting. Washington tweeted, "It is with a heavy heart and a sense of relief that I am announcing my early retirement from the entertainment industry today." He added, "it seems that the haters, provocateurs and the Useful Idiots have won. I'm no longer interested in the back and forth regarding a 'color construct' that keeps us human beings divided nor am I interested in politics or anything vitriolic." Over the past few years, Washington has become a staunch Trump and GOP supporter. He has taken an adversarial position against various people on social media like Soledad O'Brien and Yvette Nicole Brown, and in a social media post compared Black Democrats to a crackhead he once dated.

Angie Stone Says D'Angelo's 'Pride' Won't Allow Them To Work Together

Looks like fans will never get another Angie Stone and D'Angelo collaboration. In an interview with VladTV, Stone says D'Angelo's "pride" won't allow them two to work together, "His pride as a man would not allow of him to do that because he doesn't want to share the credit. He doesn't want it to look like, 'What if I get with her and we win? Then it's going to look like she did it.' I mean the writings on the wall, but if you want to roll like that, I'm not mad at you, but that's not my spirit." The former couple share a son together. See the full interview above.