Chuck Schumer To Receive Highest Honor For HBCU Support
The majority leader accepted the prestigious Fredrick D. Patterson Award at the UNCF National Gala on March 2.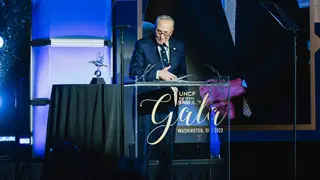 U.S. Senate Majority Leader Chuck Schumer has received the United Negro College Fund's highest honor.
Schumer, a "proud" contributor to the UNCF, was honored with the Frederick D. Patterson Award on Thursday (March 2) at the Marriott Marquis in  Washington D.C. for his tremendous support around Historically Black Colleges and Universities.
Schumer attended the UNCF's The National Gala, its signature annual event created to celebrate and honor individuals' achievements throughout the year. Though the leader had just returned from a week-long trip to Europe, South Asia, and the Middle East, he said he couldn't miss the Gala.
"It's truly an honor to be here with you all," Schumer said in his speech. "And it's deeply humbling to receive such a prestigious award from one of the greatest forces for good in our country."
Schumer went on to praise UNCF's mission for significantly helping bridge the equality gap within college education for over seven decades.
"We have to practice what we preach and that's exactly what [UNCF] has done: helping over 500,000 students earn college degrees, providing scholarships to more than 10,000 students a year, and committing over $100,000 million annually to help the next generation pay for their education," he said.
In 2021, Schumer fought to secure the largest increase in Pell Grants in over a decade, "an increase of $500, pushing the maxim Pell Grant award to nearly $7,400."
Schumer continues the fight to relieve student debt and he's hopeful that President Joe Biden's debt relief plan will be honored in the court of law.
In 2021, Schumer helped lead the fight for the U.S. Department of Education to deliver $1.6 billion in debt relief for 45 HBCUs "by discharging their Capital Financing Debt."
Last year, the senate passed Schumer's historic semiconductor, sciences and tech innovation bill known as the CHIP & Science Bill. Schumer called the act "a true labor of love," adding it "helped expand research capacity for HBCUs and included new funding streams that directly benefit HBCU Stem programs."
Schumer acknowledged that progress that has been made but that the education gap persists.
"It's simple: if we really want to make sure HBCUs get the support they deserve, then it helps to hire and empower more HBCU graduates!" he said.