Vanessa Bryant Shares Sydney Leroux's Tattoo Honoring Gianna
The pro soccer player called Gianna a star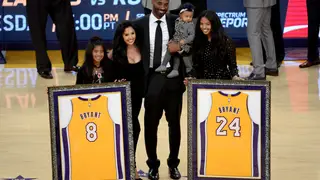 In the midst of many tributes to the Bryant family, Vanessa Bryant shared a special post on Instagram on the same day she publicly said goodbye to her husband, Kobe Bryant and their daughter, Gianna.
Sydney Leroux, pro soccer player and friend to Vanessa, recently got a tattoo in memory of Gianna. She captioned it: "#2, Leroux. Thank you for honoring my Gigi. I love you @sydneyleroux." No. 2 was Gianna's jersey number and is also Leroux's number on the soccer field. 
Following the helicopter accident that tragically killed both father and daughter as well as seven others, Leroux shared an emotional message remembering the family, calling Gianna a star. 
"Your dad told me that you were going to be better than he was. You had the gift no matter what you were playing," wrote the family friend at the time. "I know you'll be looking down on your mom and your sisters with your big smile while shooting hoops with your dad, doing what you both love."
With their shared jersey number, Leroux said her goodbye to Gianna saying, "2 will always be ours."