Tristan Thompson Explains Why He Cheated On Khloé Kardashian
"It really came down to not knowing how to love," said the NBA player.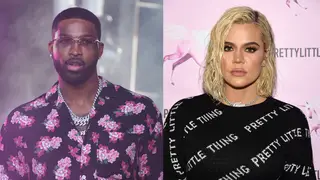 Tristan Thompson is opening up about why he was unfaithful.
In the latest episode of "The Kardashians" that dropped on Hulu this week, the Cleveland Cavaliers player reflected on his childhood and how the dynamics between his parents predisposed him to unhealthy habits, as reported by Entertainment Tonight.
While speaking to Kourtney Kardashian, she grilled him on his past cheating behavior while he was in a relationship with her sister Khloé Kardashian, with whom he shares his daughter True, 5, and son Tatum, 1.
"The next day after you do the deed, do you feel anything?" she questioned.
"For me personally, when I cheat, I feel disgusted the next day with guilt," he replied, leading her to ask him why he continues to do it.
"I was just cheating for an action, just cheating for a feeling, but also, it really came down to not knowing how to love because that's the way I grew up," Tristan admitted. 
He continued, "What I saw from my dad, how he would treat my mom, as a kid when you see that, the trauma you have, because you can't protect your mom because you're so young and 'cause your mom tells you it's going to be OK, you basically numb your emotions of being scared or feeling sad. It's my form of a defense mechanism." 
Earlier this year, Thompson's mom, Andrea Thompson died from a heart attack.
Still, big sister Kourtney remains unfazed by Thompson's lip service. 
Before the episode ended, she told him, "I don't think you deserve Khloé or the actions that you've done have been something that she deserved."