#SocialBites: K. Michelle Goes Off on Black Media
Singer has a lot to say about fighting on reality TV.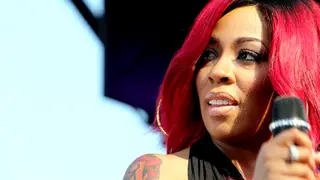 K. Michelle was setting off fireworks on her Twitter feed this Fourth of July. While the rest of us were in barbeque comas, the R&B singer (if we can still call her that) turned up on Black media for encouraging violence among Black women as a means of entertainment.
The Love & Hip Hop star began her rant by asking, "Why are African Americans so angry&hateful towards eachother?How can we possibly build a stronger culture when all we do is fight eachother?" She added, "We'll always b considered the lesser if we dont get it 2gether. I spent years on TV fighting other black women,because no1 believed my abuse." Michelle dropped a bomb last year when she came forward with claims that Memphitz routinely beat her.
"Even though I was fighting 2b heard,it looked bad 4my culture &bad on me as a woman. People picked up perceptions of me based on my hurt," she explained, adding that, "Im not healed. Imagine walking around fearing ur life.This is the 1st time Ive felt safe In 5yrs because he's in jail."
Michelle concluded her multi-purpose tirade by calling out Black media for playing a role in degrading Black women and culture. "Yep, I'm anger as s**t at the way my own people treat me, and how black media has done everything in their power to destroy me 4 no reason...And Black media stop posting me on these blogs,stop asking 4interviews unless its something positive, something 2move the culture forward!"
Watch K. Michelle in a better mood at the 2015 BET Awards, where she tore the roof down with her performance alongside Tamar Braxton and Patti LaBelle in the video below.
BET.com is your #1 source for Black celebrity news, photos, exclusive videos and all the latest in the world of hip hop and R&B music.
Click here for a chance to win a girls' trip to Miami!
(Photo: James W. Lemke/Getty Images for BET)