Jada Pinkett Smith Celebrates Husband Will Smith's Birthday In Loving Tribute
"I am so glad you were born on this day," said the doting wife.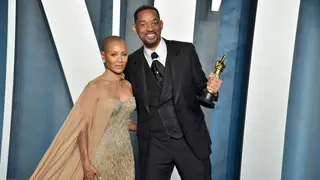 Jada Pinkett Smith is honoring her man on his special day.
To mark Will Smith's 55th trip around the sun, his wife shared a heart-warming post to Instagram to highlight his day and their storied romance. She began her post by referring to him by his legal first name, Willard.
"I am so glad you were born on this day," she continued.
"Without you I would not have experienced the greatest joy of my life… the love of our family. On this Divine assignment we've chosen to walk together, I am grateful for the wells of laughter along the trails of tears we've shared."
She included a throwback memory of the family along with the loving words. The black and white image featured their daughter Willow as a baby, their son Jaden as a toddler being held by Will, and his eldest son, Trey Smith, standing between him and Jada.
"We've had a couple platforms reach out to us," she told PEOPLE.  "And we have some interesting avenues that we're looking at now. You know me, I'm always looking for the next innovative thing."
"Actually, there's one idea that we have in mind that I'm kind of excited about that will probably be happening, maybe, close to the release of the book," she says. "We've got some really interesting stuff happening with RTT. I'm excited about that journey as well."
Jada is also gearing up to release her new tell-air memoir, Worthy, which will be a deep dive into "everything."
"I think people have made a lot of assumptions. And you know what? Rightfully so. I have to take ownership of that, in regards to the narrative that I've participated in, the falsehoods about myself," she explained.
"In the book I really explain all of that extensively as part of my reclamation journey," she adds. "I think a lot of people, not even just women, but a lot of us lose ourselves in narratives that are not necessarily or completely forthright."