BlackLivesMatter: 'Creed' Filmmaker Ryan Coogler Teams Up With Ava DuVernay In New Series
Together, they honor and remember victims of police brutality.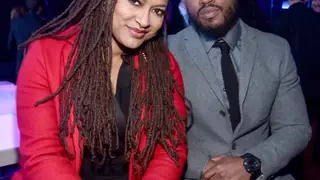 In a new video series for his social justice non-profit organization Blackout For Human Rights, filmmaker Ryan Coogler, of Creed fame, is sharing his personal story while also advocating for change.
During the campaign, Coogler shares that if he had encountered police brutality as a child, he would never have been able to accomplish what he has.
"[My career wouldn't] have been possible if, when I was 12 years old… [I] was shot and killed by police on the spot, before I ever had a chance to put my hands up, like Tamir Rice," the filmmaker says during the clip.
The video series he's curating is autobiographical by nature, tapping the likes of director/activist Ava DuVernay and rapper Common to share personal stories while also honoring the memory of victims of police brutality, such as Tanisha Anderson and Freddy Gray Jr.
The film series is aptly titled "#MyLifeMatters" and was organized in conjunction with The Movement for Black Lives (July 21) which called for a day of collective action through local demonstrations and protests. 
Check out the important messages in the clips above.