Niecy Nash Stunned After DNA Test Revealed a Family Secret
Nash was in a 'state of shock' during 'Finding Your Roots' appearance.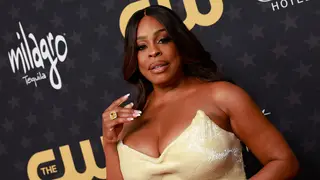 Neicy Nash was the latest celebrity to be shocked to learn what is in her family's past after an appearance on the PBS show, Finding Your Roots hosted by Dr. Henry Louis Gates.
In her appearance, which aired on Tuesday, Jan. 17, Nash was stunned to learn that the man she thought was her grandfather was not biologically related to her.
"I was in a state of shock. I think I said, 'Say what now? What exactly does that mean?'" she tells Nash tells Gates, per Today. She added that she would be the one to break the news to her father--shattering a theory they believed all of their lives. "Now that whole theory was defunct," she said.
Nash said that she called her father with the news and that he asked if he could call her back in 15 minutes.
"That was the longest 15 minutes of my life. I don't even know what he did in that 15 minutes. But he did call me back and he said, 'Well pumpkin, the journey continues,'" she told Gates.
Through further genealogical testing, the Finding Your Roots team uncovered the name of Nash's biological grandfather: Frank Jackson.
"So many things are going on in my mind right now," she said. "I wonder if my father ever met him or if he ever knew him in his life, you know? I wonder if he ever saw him before in his life. Wow."
Gates and Nash deduced that her grandmother may have been unfaithful in her marriage and that it is unclear if Jackson had other children.
The acclaimed historian also revealed that Nash had ancestors who were enslaved--something that the "Claws" star called "heartbreaking"
"It's weird because you grow up knowing what slavery is, you grow up knowing the institution, you grow up still feeling the ripple of what it is for us in today. But somehow when you can go back and read this actual document, it still feels like a gut punch."
She added, "This is one of the best things I've ever done in my life. It's something about knowing even with the hard parts there's value."