'How, Sway?': Kanye West Admits Sway Calloway Was Right Ten Years After Infamous Confrontation
The rapper acknowledges the 'Sway In The Morning' host does, in fact, have the answers.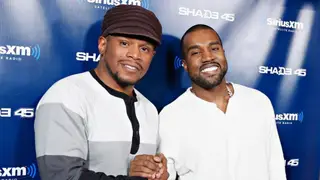 It's a moment that lives in pop culture history.
In November 2013, Kanye West appeared on Sway Calloway's Sway in the Morning radio show on SiriusXM. West was talking to Sway about the challenges he faced from corporations uninterested in funding his fashion designs. The conversation took a turn when Sway calmly said, "Why don't you empower yourself…and do it yourself?" Calloway asked West about his gripe with corporations.
"How Sway?!" West yelled back."You ain't got the answers man! You ain't got the answers Sway! I've been doing this more than you! You aint' got the answers! You ain't been doing the education…you trying to give me advice about something…you ain't got the answers. You ain't spent 13 million dollars of your own money trying to empower yourself!"
Calloway shot back, raising his own voice to say, "You ain't gotta turn up. This ain't no f***ng show….I'm talking to you as a homie," he said. "I'm tryna understand your world because when I go to your concert, I'm curious about what you're saying…You ain't gotta turn up on me. Man to man, dog...f--- these mics, we can turn all this s--t off. You ain't gotta do this, it's cool. I love you bro….Don't try to embarrass us."
West eventually calmed down and apologized. The moment went viral and has been used in countless memes. However, West now says Sway does in fact have the answers.
During a sit-down with Good Morning America on Thursday Ye discussed his failed relationship with Gap and Adidas.
"It was all kind of a disregard for the voice of something that I co-created. I co-created the product at Adidas. I co-created the product at Gap," Ye explained. "That means that I was there for some specific agenda, not for Yeezy Gap to be everything that it could be, or this dream that I had about what the Gap could be. It's time for me to make my own thing."
ABC News Live Prime anchor Linsey Davis asked Kanye, "So, Sway, almost ten years ago said, 'Man why don't you do it on your own?' Was he right?"
"I will go ahead and say, Sway had the answer," Kanye said with a smile. "People are gonna be like, 'No.'"
According to the Associated Press, last week, the rapper's attorneys sent a letter to Gap notifying them that Yeezy LLC would be terminating its agreement, claiming that Gap failed to meet the terms of its contract. In turn, Gap sent a letter to its employees, according to Pitchfork, confirming the partnership is now over.
West's team say Gap was obligated to sell 40 percent of Yeezy Gap items in brick-and-mortar stores throughout the third and fourth quarters of 2021, and that Gap was contractually required to open up to five retail stores dedicated to Yeezy Gap products by July 31, 2023. Gap will reportedly be able to continue selling existing Yeezy Gap gear before ending use of the brand name.