Barack Obama Dedicates 'A Promised Land' Memoir To Wife, Michelle Obama and Daughters, Sasha and Malia
The former president opened up on his Instagram on why dedicating his memoir to the women in his life was important.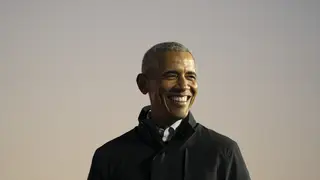 After unveiling his memoir, A Promised Land, Barack Obama is sharing why he dedicated it to his wife, Michelle Obama, and their daughters, Sasha and Malia. He discussed the decision Saturday (Nov. 14) in an Instagram post. 
Posting a throwback family photo of his wife and two daughters, Obama wrote about the importance of being a father and shared a promise to himself to "always" put family first.
"The fact that my own father was largely absent from my childhood helped shape my ideas about the kind of father I intended to be," he said. "When Malia was born, I made a promise to myself that my kids would know me, that they'd grow up feeling my love keenly and consistently, knowing that I'd always put them first." 
He also shared that while serving as the nation's 44th president had its challenges, he made it a priority to have dinner with his family at 6:30 every night during the eight years in office. 
"I'm reminded constantly that there's no place in the world I'd rather be than with Miche and our girls—and it's why I've dedicated my memoir to them. #APromisedLand," he concluded in his post. 
A Promised Land is the first of two volumes of Mr.Obama's post-presidential memoir. It will offer an "honest accounting" of the two four-year terms of the  Obama presidency from his perspective. And will give a deeper look into that he and the former first first lady went through. 
The new memoir will be available on Nov. 17 and will be published around the world in 25 languages. Crown, the Penguin Random House imprint, behind the release has ordered 3 million copies for the first printing of the U.S. edition.