Lenny Kravitz Shares What Black Women Have Taught Him
In an interview with BET, the actor also talked about co-starring alongside Jennifer Lopez in their new film 'Shotgun Wedding.'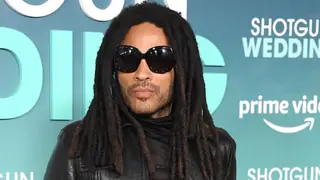 Lenny Kravitz is painting a picture of what the energy in the room was like growing up surrounded by iconic Black women and the words of wisdom that they instilled in him.
Kravitz is the only son of The Jeffersons actress Roxie Roker, who died in 1995 of breast cancer.  Cicely Tyson and Diahann Carroll, both of who had dynamic and monumental careers in Hollywood before their deaths in 2021 and 2019, were his godmothers.
Kravitz first hit the mainstream music scene after releasing his first album Let Love Rule in 1989. He won his first Grammy Award in 1998 for his album 5. In 2001, he won a Grammy for "Best Male Rock Vocal Performance" for "Again" and snagged the same Grammy win in 2002 for "Dig In." 
For his acting career, Kravitz has been nominated for a Screen Actors Guild award in 2014 for The Butler and in 2009 for Precious.
In an interview with BET.com, the entertainer called moments with Roker, Tyson and Carroll a "vibe."
"They all had things to say: it was about working hard, it was about being honorable, it was about respect, honesty and authenticity," Kravitz said. "More than [their words] this example of women and how they conducted themselves with so much class, they had a lot of hills in front of them to climb. They knew how to break through with strength and integrity."
"Just being around that vibe and seeing the excellence, the talent, how much they worked to hone their craft that was life, that was school. That was an education and I wouldn't be sitting here today without the lessons from these Black women," he continued.
Kravitz, who is also co-starring alongside Jennifer Lopez in his next major film Shotgun Wedding, also shared what it was like to work with the cast and take on a role that is out of his norm.
The film follows Lopez's Darcy and Josh Duhamel's Tom as they gather their families for the ultimate destination wedding but when the entire party is taken hostage.
"It was fun. I had not made a film like this, I mean I haven't made that many films but definitely nothing like this," Kravitz shared.  "It was filmed in a very surreal time in the world during the beginning of covid, where we were all locked down."
Adding that Lopez asked him to do the film, "I read the script and I was a fan of so many of the people that are in the movie."
"I thought, 'Why not? Say yes!' Kravitz said. "Go do something different, go take a chance and ended up being a monumental time to have fun and be creative." 
"The overall feeling was gratitude you could feel that coming from everybody."
Watch the full BET.com interview with Lenny Kravitz below: