Isaiah Washington: The 'Grey's Anatomy' Alum Announces Early Retirement
He has some words for his haters.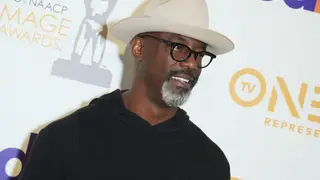 Isaiah Washington, best known for his acting duties as Dr. Preston Burke on the drama series Grey's Anatomy, has announced his "early retirement"  from acting.
According to Page Six, Washington, 59, announced his retirement on Feb. 28, citing racial discrimination as the biggest determining factor.
On Friday (March 2), Washington tweeted, "It is with a heavy heart and a sense of relief that I am announcing my early retirement from the entertainment industry today."
Washington added, "it seems that the haters, provocateurs and the Useful Idiots have won. I'm no longer interested in the back and forth regarding a 'color construct' that keeps us human beings divided nor am I interested in politics or anything vitriolic."
The True Crime actor has plans on traveling around the country "before it falls into Socialism and then Communism."
Prior to the start of Grey Anatomy's fourth season, Washington was removed from the cast for using a homophobic slur against costar T.R. Knight.
He initially denied using a slur against Knight — which occurred once on set and once at the 2007 Golden Globe Awards — but later admitted to it during a statement at the time.
Washington acknowledged he needed to "examine within my own soul" and that he asked for him in moving forward during the tough situation.
"I did everything that the producers and the network asked me to do," he said after learning of his firing.
He was asked to reprise his role on the show's 10th season for a final appearance.