China Dedicates Museum Entirely to the Life of Stephon Marbury
Former NBA star never got this much love in America.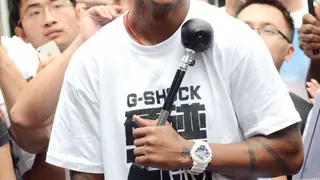 Stephon Marbury had a respectable career in the NBA from 1996-2009, with him being selected for two All-Star Games, but also being regarded as everything from selfish to downright strange in the process. (The man once ate Vaseline on video).
But the kind of controversy that Marbury had in the United States pales in comparison to the magnitude of love that he gets in China.
After Starbury led the Beijing Ducks of the Chinese Basketball Association to three championships (2012, 2014 and 2015), China has built an entire museum dedicated to the life of the 38-year-old basketball player. In other words, he's a basketball god in Beijing and the Chinese city opened its doors to the museum this week.

"Today was one of the best days of my life in opening my own museum: The House of Marbury," Marbury told China Daily at the unveiling ceremony earlier this week. "I couldn't have dreamed this dream for myself, although God has created another miracle in this life for me. Without my teammates, coaches and fans from Beijing, this wouldn't be possible."
BET Sports News — Get the latest news and information about African-Americans in sports, including weekly recaps, celebrity news and photos of your favorite Black athletes.

(Photo: Imaginechina / Splash News)