THE LESSON: Producer Datari Turner Breaks Down Streaming, Generational Wealth And Black Success In Hollywood
Ten truths every aspiring filmmaker should know.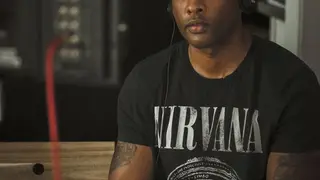 Datari Turner's day typically starts around 7 a..m and ends way past when the late night talk show hosts sign off. What he manages to cram into those 18 or so hours is nothing short of a miracle. Today the 38-year-old Hollywood powerhouse has been on the set of his film Same Difference while working on the next season of his hit series, Growing Up Hip-Hop, and a Showtime special on the history of the NBA draft with LeBron James. (His move to L.A. makes even more sense now) His next theatrical release, A Boy. A Girl. and A Dream: Love On Election Night, stars Omari Hardwick, his old friend Megan Good and Jay Ellis, and he is finalizing the marketing plan for its September release. And these are just the projects he can speak on. There are about 20 more in various stages of development that demand his attention, but he'd have it no other way.
If you don't know Datari Turner by name you know his work. From Gook and 9 Rides to LUV and Dysfunctional Friends, you've got something Turner has touched in your streaming service cue. The former Sean John and Banana Republic model turned actor, TV producer and writer once shared a classroom with the now Duchess of Sussex Meghan Markle and actress Janina Gavankar in Disney's very competitive talent program in 2004.
"I was probably in the best class they've ever had in '04," Datari tells BET.com. "I had just moved from New York To L.A to be a writer. I had written my first screenplay, Video Girl. I had a literary agent at the time but because I was a very popular model before I started producing film and TV, she thought I should also audition for the talent program."
More than a decade later Datari has become one of the most prolific producers in Hollywood, notching over 30 credits along with 100 plus hours of airtime on TV. But what exactly does a producer do and how did become so successful? Get something to take notes on.
1. YOU WIN SOME AND LOSE SOME AT THE SAME TIME
What's interesting is I got my first screenplay optioned by a company at the time called Mosaic. The producer Charles Roven is a really big producer in the business. He produced everything from Talladegha Nights to The Dark Knight franchise. At the time his company had a six-figure deal with HBO to do six urban themed movies at a million dollars a piece. The first movie that was gonna be done through that deal was The Speakerboxxx/The Love Below, which became Idlewild. So they optioned my screenplay, and as somebody who was really green at the time I was like this Hollywood thing is easy. I got my screenplay optioned and accepted in this program. When you sign an option it tells you what you'll get paid, so I thought the Outkast movie is gonna come out, do well, and my movie is gonna get made next. But Outkast's albums went diamond and the executives thought that because the albums sold 10 Million that the movie should get a theatrical release instead of an HBO movie [release]. They ended up making it a big theatrical release, it underperformed and they didn't want to make urban movies anymore. So that's what happens all the time in Hollywood. You can have expectations but things happen. I got a Hollywood 101 lesson very quickly.
2. WHY HE BECAME A PRODUCER
I came to L.A. to be a writer. That's what I wanted to do when I was living in NY and modeling.  But I realized quickly that writers have no power in film. Because a studio can buy your script, they own it and they can rewrite it. You can get fired on the spot. They give you a first option to rewrite and then they don't like the rewrite. It's a very lonely life. Writers live very isolated lonely lives. So when I started doing research about the business of film and TV, what I quickly realized is that producers are the most powerful people in Hollywood. They're the richest people, most powerful.
When you look at a Stephen Spielberg— who is worth 3.7 Billion—people identify him as one of the greatest directors that ever lived, but this wealth comes from producing.  He's produced over 130 movies. I'm a numbers guy so we don't want to put all of our blood, sweat and tears into projects and not be compensated. Even looking at Oprah, she has that money because she owned and produced her talk show. So I said I have to be a writer/producer.
3. WHAT EXACTLY HE DOES AS A PRODUCER
My first film Video Girl I wrote and produced, I was in it as well. Ironically BET did license the film for cable. Typically my job is [to] find a piece of material that I want to make, option the material from the writer and work with the writer on the script. Then I have to go out and raise the money to get the film made and get the actors attached. I know how to prepare budgets but these days I hire a line producer to keep track of spending and then I hire department heads. The producer is responsible for the production. That's who the studio trusts with money. If the director is notable they can negotiate final cut in their deal, but typically the producer has the last say.
4. WHY GROWING UP HIP-HOP WORKS
When I created my first TV show at 25 it was for BET, it was called The Ultimate Hustler with Damon Dash. It was about 15 aspiring entrepreneurs. One of the things Damon said when he [explained] why he and Jay-Z named the company Roc-A-fella, is because it represented a dynasty and generational wealth. At that time he didn't know many black people who had generational wealth. Sure there were black families that had it, but you never saw it promoted in the media. My parents always talked about legacy, so it struck a chord with me. Everything I've tried to do on screen has a strong message. So Growing Up Hip-Hop is really important for me, because through hip-hop now you have these families with generational wealth. Master P had Romeo and his daughter and Rev Run, it's really about legacy and black excellence. Your offspring are successful business people so it's a game changer for black people.
5. IMPORTANCE OF TELLING OUR OWN STORIES
Producing film and TV we're not doing brain surgery, so people try to trivialize it. But the only reason that America is a super power in 2018 is because of our entertainment business. We're not top 10 in education, other countries we're indebted to financially, other militaries rival ours. So the only reason that we're a super power now is because we created popular culture around the world. Our movie stars are the biggest in the world. So what we do is very important. And being a Black film maker, for 80 years white men told our stories. So when I moved to NY to be a fashion model at 19 and I walk down the street and a white woman is walking and holding her purse tight, people got these images of black people because of images white men put on TV. That we were killers, murderers and rapists. That we were dangerous. That's really because of TV and film. It's just in the last 20 years we've been able to tell our own stories. Now your kids and your kids and my kids are gonna see Black Panther and kings and queens, doctors and lawyers. But these images of the last 80 years contributed to a lot of racism.
6. WHY IT'S A GREAT TIME FOR BLACK CREATIVES
It is a really great time to be a film maker of color. I never thought in our generation we would have a moment like we're having now. The greatest decade for Black film was the 90s. There were so many phenomenal Black movies made in the 90s. All of our big stars were made then. Denzel, Halle, etc. [But] What we're experiencing right now is phenomenal.  You have Omari Hardwick starring in my film and he's on Power, which is the second highest rated series on cable, only behind Game Of Thrones. You have Jay Ellis who was a co-lead on Insecure. Kenya Barris wrote Girls Trip and created Black-ISH. And that's just three people in my film. I haven't seen a time where you have this many black people in leading roles on TV, creating TV shows, producing TV shows. So many people with studio deals. That doesn't mean we don't have a long way to go, because we do, but we're definitely having a run right now.
I think when you are starting off in the business, you can know exactly what you're supposed to get in a deal because you researched it and you may even have A-list attorneys telling you things, but if you don't have the resume to support it you're still not gonna get it. A lot of times when people do bad contracts they say "they aren't smart" but sometimes you have to do a bad deal to get in the business. That was a hard lesson for me as someone who really studied the business. I would take a director like Martin Scorsese or Alfred Hitchcock and watch every movie they ever made from the beginning. Stanley Kubrick.  So when I came in the game I didn't have any experience but I felt like I knew the business because I read a ton of books and studied contracts. But I didn't have the experience or a resume and you only get great deals in this business when you've proven you're worthy of a great deal. I may have burned some bridges at the beginning of my career because I was so paranoid about getting taken advantage of. But if you really are a great producer you're gonna have a million ideas. And you do have to get your foot in the door. So you're going to have to work for free or make very little money. Just get points on the board.
When I say write for free I don't mean literally. There should be some compensation. But you may not be getting what you'd ultimately like to make. That's a figure of speech. When you think about this thing, I did turn down some opportunities early on, but the truth of the matter is I'm doing this job for free anyway, until someone hires me. I'm writing everyday, I'm in the movies all day, reading books, I'm always working on my craft anyway. And even when you start making a lot of money, when you think about the amount of hours you put into these things, if you develop a movie for five years and had to do all of these rewrites, you're working for minimum wage. You get the film made but sometimes these things take years. Obviously when it gets made you do really well and if you're producing a lot of things—I produce two or three films a year and have multiple series at once—but some of these things take years. It took me seven years to get Video Girl made. If you count all the years I worked on it I made minimum wage on it. So you have to love this thing. Deeply and passionately. I don't want to do anything else with my life.
9. WHY STREAMING MATTERS TO BLACK CREATIVES
I think [streaming] is great. I think the more platforms and buyers out there the better. I think I have about 17 movies currently on Netflix that I produced. Where else would those films live? The DVD business is slowly fading out. Without Hollywood Video and Blockbuster where can people go in and browse all the titles of what they want to rent, how are people going to get these films? Imagine if there was no Amazon right now? Where would those films live?
The thing about black movies and why people said black films don't sell overseas, if you go back and look, Love Jones is a classic. A lot of movies like Dead Presidents, Friday are considered classics but if you go back and look at the box office gross I don't think Love Jones made $20 Million. Friday made Chris Tucker a movie star and it didn't even gross $30 Million [at the box office]. These movies got big because of home video. New Jack City made $100 Million on home video. That's why these people became big stars. New Jack City made Wesley Snipes a household name. Again, once home video started shrinking and studios weren't making a profit that's why people stopped making black movies for a while. The home video market is dying. To put a movie on 1,000 screens costs a studio $10 Million in P&A—print and advertising costs. So if you put a movie on 2,000 screens the studio is spending $20 million and you gotta send the negative to 2,000 screens. Then you gotta market it, buy ads, fly actors all around the country to sit on Ellen and Letterman. This stuff is not cheap. If you spend $5 million to make a movie, you put $20 millions into the P&A of a film and the movie grosses $30 million. The theater chain is taking 40% of that, so you're still upside down. But studios made a killing on home video. Once that went away they couldn't justify it. That's why people don't understand a movie going straight to video isn't always because it's bad. It means they don't want to spend $10 million to put it on 1000 screens. They want to get to that profit margin as quick as they can and they have to split almost half of that money with the theaters. That's why with 80 % of profits coming from overseas they want to make high concept popcorn movies. It's really just numbers. Some of this stuff isn't about race, it's really about numbers. There have been major diversity problems in Hollywood going back a long time and they are getting better, but everything is not about race. A lot of it is about money. So why spend $10 Million to put it in theaters when we can put it on cable or home video and get to the profits quicker.
10. BUT THEATERS ARE HERE TO STAY
The rumor is that Netflix is gonna start buying movie theaters. People have been talking about the theater experience going away for 20 years, but kids still need to go on dates. Movies are still a cheap date. It's cheaper than taking a girl to Mr. Chows. Tickets are $15 a piece, you pay for some popcorn and candy, that's still less than $50. Where can you take a girl and she not think you're cheap other than the movies?  Last year the box office broke records. The Avengers did $250 Million in one weekend.  There will always be theaters. If you got 100 Million subscribers paying $15 $20 a month they are going to want to own their content. They are gonna start putting things in theaters. They did it a little with Beasts Of No Nation. They put that in theaters so it could get awards consideration. Though the business has changed I think there will always be theaters.