Simone Missick On The Magic Of 'Jinn' & The Black Muslim Experience In America
"This movie is a love poem to Islam."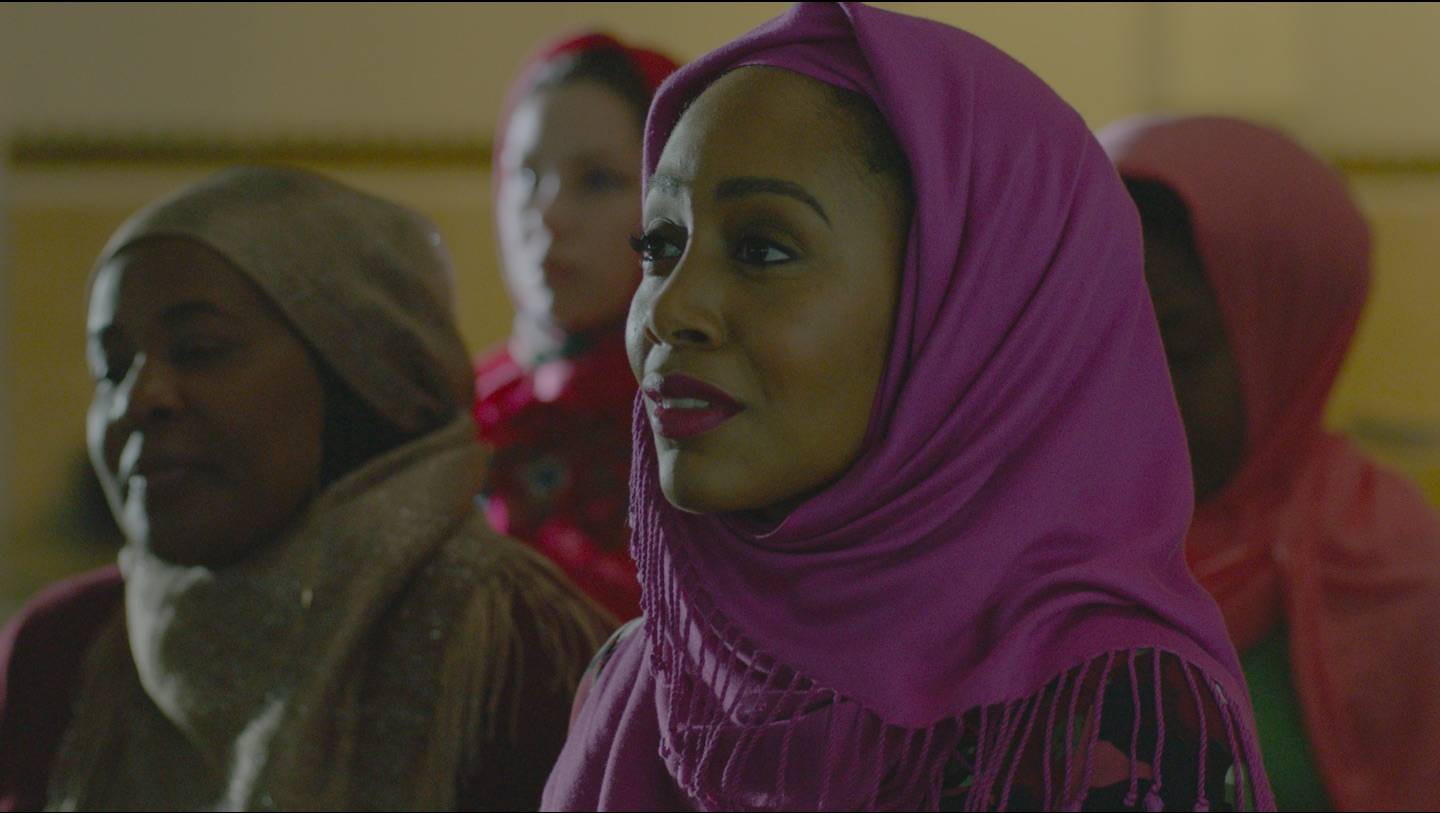 There is no mistaking Simone Missick when she walks into a room, and that goes double for when she's on screen. The Detroit native captivated audiences as the clairvoyant, no-nonsense detective Misty Knight in Marvel's Luke Cage, The Defenders  and Iron Fist series on Netflix. When she arrives in studio to discuss her latest film project, Jinn, she is draped in a crimson blazer and matching heels, evoking the "smokeless flame" of the titular spirit. In Jinn, Simone plays a mother and meteorologist named Jade, who is converting to Islam, and her decision is presenting challenges for herself and her daughter.
Jinn is the first feature film by Nijla Mumin, an award-winning Muslim writer and filmmaker from the Bay Area who graduated from UC Berkley and attended Howard University's MFA Film Program. Jinn, loosely based on her life, premiered in narrative competition at the 2018 SXSW Film Festival, where she won the Special Jury Recognition Award for writing. Mumin also directed an episode of Ava DuVernay's critically-acclaimed OWN television series "Queen Sugar," for season three in May of 2018. Jinn is one of the first films to deal with the Black Muslim experience in America since Qasim Basir's 2010 film Mooz-lum, which starred Nia Long, Evan Ross and Danny Glover. But rather than being an outside-in look at how the world views Muslims, Jinn starts inward and explores how a Muslim family observes the world they live in through their religion.
"She wrote this movie as a love poem, almost, to Islam," Simone tells BET.com "But [it's] also a story very close to her. It's similar to her own relationship with the religion. She grew up in a Muslim household, but it was very difficult for her to live between the two worlds of being just a young, carefree Black girl living in California wanting to listen to Lil Kim and go out with her friends and then feeling like she also wanted to be respectable to the religion that she grew up in."
As Jade Jennings, Simone Missick brings us into the life of a woman transitioning into her faith and how it affects her personal and professional life, specifically as it relates to her daughter, Summer, played by The Quad's Zoe Renee.
"She is just a phenomenal actress and she is able to convey all of the angst that young girls go through at this time of her life," says Missick. "From dealing with body issues and how to deal with social media and sexuality, as well as how to take on this new identity that she's not sure if she's ready to accept completely."
Jinn also stars Kelvin Harrison Jr. (Monsters and Men), Kelly Jenrette (The Handmaid's Tale) and Simone's husband, Dorian Missick, who plays Jade's ex-husband, David.
"It was just a phenomenal short shoot," Missick says of filming. "Nijla is a brilliant young filmmaker and she is going places. She is definitely one to watch. I think this film will really touch people because it's the Black Muslim experience in America, which is something we rarely see on television and films. It also just shows what every young teenager is going through right now, which is self-discovery. And it also applies to my character, who is an adult, still trying to figure it all out."
Jinn is in select theaters now.