A.I. Music Is In Its Wild West Stage: How Do We Control It?
We spoke with a music attorney about legal recourse, precedent and what can be done to regulate it.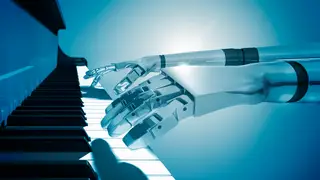 It's hard to think of something that artificial intelligence (A.I.) isn't affecting in our current society, and that certainly includes media and entertainment. The music industry is currently in a state of extreme uncertainty over whether A.I. is containable and what it could do to the business and artistry as a whole.
One of the most recognizable instances of A.I. to pop up over the past year is YN Meka, an A.I.-generated Black rapper who initially made headlines after being signed by Capitol Records but was later dropped in large part due to the fact that the person behind his voice was white and used the N-word in lyrics. The major label also apologized in an August 2022 statement to Variety.
While that incident may be out of most people's minds at this point, it was one of A.I.'s first big forays into hip-hop. Many have since rightfully taken issue with the fact that rap is a target for the technology, suggesting that the genre and its artists are often viewed as a commodity, with Meka being a "caricature."
"It is a direct insult to the Black community and our culture – an amalgamation of gross stereotypes, appropriative mannerisms that derive from Black artists, complete with slurs infused in lyrics," nonprofit organization Industry Blackout wrote in a statement at the time of Capitol's release of Meka. "This digital effigy is a careless abomination and disrespectful to real people who face real consequences in real life."
More recently, A.I. has been used to create the voices of real and respected emcees, but without the permission of the artists or their estates. In mid-April, "Heart on My Sleeve," a song created by TikTok user Ghostwriter977 that uses the generated voices of Drake and The Weeknd, surfaced on social media. It was taken down by Universal Music Group.
Late last week, producer Timbaland previewed a new song made with A.I. replication of The Notorious B.I.G.'s voice, which the 51-year-old conceded was controversial and promised "a solution" if it were to be monetized in any official capacity. He added that the song was an opportunity to work with the Brooklyn legend – something he was never able to accomplish due to his tragic 1997 murder.
The song sparked a debate between fans and artists alike, with some asserting that the altering of Biggie's voice tarnished his legacy, while others thought the song to be a worthy tribute to the late rapper.
One thing is certain: A.I. technology will continue to be toyed with by legitimate professionals and social media users like Ghostwriter977 who have the ability to remain anonymous. So where do we go from here and what legal recourse do artists have to protect their voice and intellectual property?
We spoke with Almuhtada Smith, a principal attorney at law firm ARS Counsel, P.C. who represents Grammy-winning and major label artists and whose practice specializes in helping clients sign recording contracts and publishing deals that protect their long-term intellectual property (IP). According to Smith, artists currently have "limited recourse" over A.I. using their voice without their permission in any state in America.
"The biggest issue here is that voice isn't currently protectable, copyrightable material," he told BET. "Federal copyright law, as it currently exists, wouldn't be able to protect artists in [the situation of their voice being used without permission], but there are some alternative forms of recourse. The most applicable is through leveraging what they call the personality rights or publicity rights and name image and likeness (NIL) rights.
"These rights are a person's name, likeness, caricatures, signature – any identifying characteristics, and [this] includes their singing voice," Smith adds, noting that not all states recognize NIL rights, and some that do will not legally acknowledge postmortem rights.
Smith further explained that UMG only had the power to flag Ghostwriter977 with a DMCA notice, which caused streaming and social media platforms to take down the unauthorized song, because all elements of it weren't completely generated by the user.
"The label was able to latch on to that and say, 'You need to take this down because it contains this copyrighted material,'" Smith said. "So I don't know what will happen when an A.I. song is generated without any copyrightable material."
A February letter issued by the U.S. Copyright Office ruled that illustrations in a new comic book created with the A.I. program Midjourney are not protected by copyright law, further establishing the precedent that only art created by humans can be copyrighted and that the author was entitled to copyright for the parts of the book that they wrote, but not the images produced by A.I.
Effectively, this extends to music with artists' voices not being federally protected by copyright law. That said, Smith believes that two of the biggest entertainment-producing states – California and New York – will be leaders in legislation that will regulate the use of A.I. He added that other states will likely follow before Congress eventually takes action at a national level.
As for being able to monetize A.I. versions of content created by artists, particularly those who have passed away – like Timbaland's usage of Biggie's voice – it's an issue the music industry will have to grapple with in the years to come, as it did in the days of Napster and other piracy software. Smith believes that if artists like Timbaland are able to receive the blessings of artists (or their estate in a postmortem capacity) A.I. can be a force for good in music monetization.
"The question becomes whether to embrace or not embrace A.I.," Smith said. "The approach is kind of depending on how that artist feels about A.I.; if the artist is more hostile towards it, they probably wouldn't be likely to be open to give consent.
"Grimes, for example, is an example of an artist who's given her consent. She's looking to get ahead of it, and she's telling folks, 'Yeah, go ahead and use my voice for these A.I. generated records but as soon as you start making money from it you have to give me a cut,' Smith adds.
"So I'm sure there'll be more artists who embrace it in that way as long as they're getting paid and given permission. And then, of course, new companies and older companies will be interested in entering the space."
For more about Almuhtada Smith's opinion about IP, artists rights and more, read his recent op-ed for Bloomberg Law.