Michael Irvin Drops $100M Defamation Lawsuit In Texas, But He's Not Done Fighting
He reportedly plans to refile the case in Arizona where a female hotel employee accused him of wrongdoing.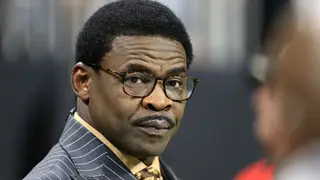 Former NFL wide receiver Michael Irvin's attorney dropped his $100 million dollar defamation lawsuit in Texas against Marriott International and a female employee who accused him of an inappropriate interaction at a Phoenix hotel.
WFAA reports that Irvin's legal team filed a motion Monday (March 13) to dismiss the case in Texas and plans to refile the lawsuit in Arizona where the alleged incident occurred.
Irvin filed his lawsuit Feb. 9 alleging that the Renaissance Phoenix Downtown Hotel and the female employee wrongly accused him of misconduct.
The retired Dallas Cowboys wide receiver and national football commentator was in Arizona on Feb. 5 on assignment for NFL Network to cover Super Bowl LVII week. According to Irvin, he had a brief, innocuous verbal encounter in the hotel lobby with the female employee. But he was later accused of inappropriate behavior toward her, escorted from the hotel and dropped from the network – all without explanation about the alleged wrongdoing.
For weeks, Marriott declined to allow Irvin and his lawyers to view a surveillance video of the encounter, identify his accuser or state exactly what he was accused of doing.
Finally, on March 10, Marriott filed its motion detailing their version of what happened. According to Marriott, Irvin waved down the accuser and behaved aggressively toward her. He appeared to be "visibly intoxicated" at the time. Irvin allegedly shook her hand, told her she was attractive, and asked if she watched football.
Irvin also reached out and touched the Victim's arm during this conversation without her consent, causing her to step back, becoming visibly uncomfortable. Irvin then asked the Victim whether she knew anything about having a "big Black man inside of [her]," the lawsuit states.
Irvin's lawyer, Levi McCathern, planned to share the video at a March 14 press conference.