Black Latinos Who Made US History, Impacted Popular Culture
From the original "Godfather of Black History" to the "Queen of Salsa."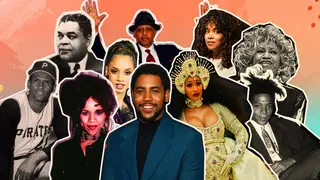 Black people, in all of our various forms, are a mighty and indispensable entity. Our presence, contributions and influence go far beyond U.S. borders.
While Blackness and the Black experience vary according to where you are on the map, our country is one that has conditioned us to view Blackness as synonymous with "African-American," glossing over the cultures, agencies, contributions and overall experiences of people across the African diaspora.
For instance, award-winning actor and playwright Ruben Santiago-Hudson's experience as a Black man — one born to a Puerto Rican father and African-American mother — is dichotomous and diasporic in disposition, and points to the negotiations many like him have often been forced to make with home. According to the New York Times: 
"When he came to New York in 1983, he was known as Ruben Santiago. He tried to get a part at the Puerto Rican Traveling Theater and was asked if he spoke Spanish. (He does not.) When he wanted to work at the Negro Ensemble Company, 'they laughed and said, "We don't have Puerto Ricans,"' he said. So he added his mother's name, Hudson, and eventually won a part in A Soldier's Play at the Ensemble Company."
In honor of Latino Heritage Month — often touted as Hispanic Heritage Month — BET shines light on a slew of Afro-Latino figures prolific in their respective fields of literature, performing arts, film, acting, writing, music, sports and aviation.
Jharrel Jerome

Jharrel Jerome is an actor born and raised in the Bronx, New York, to Dominican and African-American parents. His starring role in Barry Jenkins' Oscar-winning blockbuster Moonlight helped catapult his career to the Hollywood stratosphere, before earning the role of Korey Wise of the Exonerated 5 in Ava DuVernay's Netflix miniseries When They See Us. The latter won Jerome, 21, his first Emmy, becoming the first Afro-Latino to win an Emmy Award for acting.

Jean-Michel Basquiat

Jean-Michel Basquiat was a visual artist born and raised in Brooklyn, New York, to Haitian and Puerto Rican parents. The origins of his artistic legacy take root in SAMO, a graffiti duo that went around tagging up the cultural breeding grounds of the Lower East Side in the late '70s, when rap and street art played integral roles in the evolution of hip-hop culture. By the '80s, his works of neo-expressionism (not just mysterious epigraphs) were being exhibited in galleries and museums internationally, with his paintings focusing on the Black experience and social dichotomies like wealth and poverty. He died of a heroin overdose at 27.

Elizabeth Acevedo

Elizabeth Acevedo is an author and poet born and raised in uptown New York City to Dominican immigrants. Before becoming the award-winning author she is today, Acevedo spent the better part of her youth performing at poetry slams and open mics in places like the Nuyorican Poets Cafe and Bowery Poetry Club. Her novel debut, The Poet X, earned her a spot on the New York Times best-seller list and a National Book Award. In June of this year, Acevedo became the first writer of color to win the Carnegie Medal in its 83-year history.

Celia Cruz

Celia Cruz was a singer and recording artist born and raised in Havana, Cuba. When she lost her life to cancer nearly 16 years ago, Cruz left behind an incomparable legacy. Today, the "Queen of Salsa" (a title she earned after rising to fame in Cuba during the 1950s as a singer of guarachas) lives on in radio stations, television programs and internet memes. Not to mention in the hearts of fans from around the globe who find joy, solace and pride in her music. Cruz, known for hits like "La Negra Tiene Tumbao" and "La Vida es un Carnaval," was one of the most iconic artists of the 20th century.

Cardi B

Belcalis "Cardi B" Almánzar is a rapper and recording artist born and raised in the Bronx, New York, to Dominican and Trinidadian parents. A social media mainstay, Cardi appeared as a regular cast member on VH1's Love & Hip Hop: New York. Using reality television as a stepping stool for her music aspirations, she released a pair of mixtapes between 2015 and 2017 titled Gangsta Bitch Music, Vol. 1 and Vol. 2. Her debut album, Invasion of Privacy, won the Grammy Award for Best Rap Album, making Cardi B the only woman to win as a solo artist.

Arturo Alfonso Schomburg

Where the late, great Carter G. Woodson committed the better part of his life to bringing African-American history front and center, Schomburg dedicated his to procuring, documenting and preserving the artistic, scholarly, intellectual, scientific and technological contributions of Black peoples from around the globe. Cited as the "original Father of Black History," Schomburg was born and raised in Santurce, Puerto Rico. A multilingual autodidact and bibliographer, Schomburg was a critical intellectual figure in the Harlem Renaissance. His African findings and collections form the basis of the Schomburg Center for Research in Black Culture at the New York Public Library branch in Harlem.

Rosie Perez

Actress, choreographer and community activist Rosie Perez was born and raised in Brooklyn, New York, to Puerto Rican parents. Best known for her film breakthrough in Spike Lee's comedy-drama Do the Right Thing, Perez went on to star in the cult classic White Men Can't Jump alongside Wesley Snipes and Woody Harrelson. Among many awards in film, Perez has also been nominated for a slew of Emmys for her choreography work on In Living Color, an iconic '90s sketch comedy that birthed the careers of some the biggest stars we know and love today. A Soul Train darling, Perez appears on endless throwback internet memes that recall her famous swagger down the Soul Train line. Her career came full circle when she reprised her role in Do the Right Thing for the second season of Spike Lee's She's Gotta Have It on Netflix.

Roberto Clemente

Born and raised in Carolina, Puerto Rico, Roberto Clemente has been heralded as the first Latin American superstar in Major League Baseball. Battling racial and language barriers, Clemente found his way on the Pittsburgh Pirates, where he won four National League batting titles, the 1966 NL Most Valuable Player Award and a series of Gold Glove Awards as a right-fielder, before leading his team back to the World Series in 1971. He was inducted into the National Baseball Hall of Fame, becoming the first Latin American and Caribbean player to be honored. Clemente died on a flight to Puerto Rico carrying aid for Nicaraguans left ravaged by the massive earthquake of December in 1972.

Dascha Polanco

Born in Santo Domingo, Dominican Republic, Dascha Polanco is an actress raised between Brooklyn, New York, and Miami, Florida. A product of the performing arts, Polanco's professional acting breakthrough is seen in Netflix's award-winning serial drama Orange Is the New Black, where the mother of three starred alongside a wildly diverse cast that featured a large Caribbean Latino demographic. An Instagram darling and overall social media sensation (see #ismellgood, #selflovery, #sheisdash), Polanco on numerous occasions has used social commentary on popular platforms like The Breakfast Club to discuss the politics of Afro-Latinidad.

Esteban Hotesse

Hundreds of Dominican-born soldiers served in the United States armed forces, but one known recently discovered name even served as a key member of the Tuskegee Airmen, the first Black military aviators in the U.S. Army Air Corps. Esteban Hotesse was born and raised in Moca, Dominican Republic, and was among a group of soldiers who fought against racial segregation in the military. His protest and those of his teammates have been cited as models for the civil rights movement in the 1950s. His life was cut short at 26 due to an accident.

Ruben Santiago-Hudson

Ruben Santiago-Hudson is a Tony Award-winning actor, an award-winning playwright and director and the recipient of the NAACP Lifetime Achievement Theatre Award. He was born and raised in Lackawanna, New York, to Puerto Rican and African-American parents. Best known for his role of Captain Roy Montgomery on ABC's Castle, Santiago-Hudson has notable roles in big-screen movies like Coming to America, The Devil's Advocate and Selma. Most recently, he starred in BET's own The Quad as Cecil Diamond.