Watch: Cleveland Cavaliers Win NBA Championship
All bow down to King James!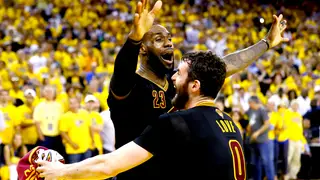 LeBron James got the MVP that counts most — the NBA Finals' MVP.
King James used Game 7 of the NBA Finals on Sunday night, and the series as a whole, to prove that he's the best player on the planet and that we're all witnesses to his greatness.
The Cleveland Cavaliers scored a 93-89 road win over the Golden State Warriors on Sunday night, becoming the first team in league history to come back from a 1-3 deficit to win the NBA Finals. In doing so, the Cavs ended Cleveland's painful 52-year drought without a major sports championship.
Go ahead and celebrate, The Land! If LeBron was the King, he's now a God body in Cleveland.
Overcome with tears of joy, King James crumpled onto the court at Oracle Arena in Oakland, after leading the way for the Cavs' Game 7 victory with a triple-double of 27 points, 11 rebounds and 11 assists. He was named the Finals' MVP, averaging 29.7 points, 11.3 boards and 8.9 assists per game over the series. That's three championships and three Finals' MVPs for King James — none sweeter than this one, being that LeBron did it for his home state of Ohio.
Kyrie Irving, who was injured in last year's NBA Finals against the Warriors, added 26 points in Game 7, including what turned out to being the winning shot.
With the score knotted at 89 apiece and 1:50 left in the fourth quarter, James flew into the frame, incredibly blocking a layup attempt by Andre Iguodala. Irving then sank a deep three-pointer with 53 seconds left before LeBron would put the game that much more out of reach by sinking one of two free throws with 10 seconds left to extend the Cavs' lead to 93-89, which stood.
King James said he felt an obligation to deliver a championship in his letter returning to The Land two years ago and now his mission is accomplished.
On the other end of the floor, Curry just didn't have it Sunday night, shooting a dismal 6-of-19 from the field, completely failing to live up to the big-game pressure that King James did royally. So much for the Warriors' single-season record of 73 wins.
You can't tell LeBron nothin' after tonight.
BET Sports News — Get the latest news and information about African-Americans in sports, including weekly recaps, celebrity news and photos of your favorite Black athletes.