Sigma Gamma Rho Sorority Raises $1 Million For St. Jude Children's Research Hospital
The D9 group made the initial pledge in 2021 and achieved the goal just days before the organization's 101st anniversary.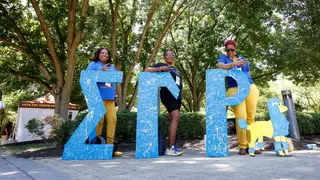 Sigma Gamma Rho entered more than 200 Walk/Run teams in various cities throughout the United States just this year enabling the sorority to raise the fundraising goal. Since 1992, the sorority has been partnering with St. Jude to support its mission.
Rasheeda S. Liberty, International Grand Basileus of Sigma Gamma Rho expressed her gratitude on behalf of their organization.
"Sigma Gamma Rho Sorority, Incorporated is grateful for the opportunity to support St. Jude Children's Research Hospital's work to find cures and help save the lives of children all over the world," Liberty said. "I am proud of the mobilization of our global membership to reach this $1,000,000 milestone and to have done so just prior to our 101st Founders' Day. This accomplishment aligns with our sorority's motto, 'Greater Service, Greater Progress'. We look forward to continuing our partnership with St. Jude in the years to come."
"We're so grateful for and honored by the incredible heart and dedicated service shown by Sigma Gamma Rho," added Richard C. Shadyac Jr., President and CEO of ALSAC, the fundraising arm of St. Jude Children's Research Hospital. "This is a milestone accomplishment by Sigma Gamma Rho and its members all over the world that will help St. Jude continue making progress in improving survival rates for children with cancer and other life-threatening diseases."
Founded by Danny Thomas in 1962, St. Jude has treated children from all 50 states and from around the world. The mission of the Hospital is "to advance cures, and means of prevention, for pediatric catastrophic diseases through research and treatment."
Because of the generosity of organizations like Sigma Gamma Rho, St. Jude doesn't charge families for services including treatment, travel, housing or food – "so they can focus on helping their child live."