Kimberly Elise Announces She Got Married Over the Summer
"The Lord has blessed us with each other," the actor said.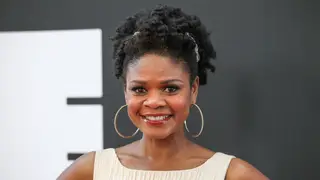 Our favorite girl, Kimberly Elise got hitched over the summer!
As he removed the ring box from his pocket and took a knee, Elise became emotional and nodded, "Yes."
Another frame of the video montage highlights the couple on their wedding day, along with the special moment when they kissed. The video also shows the love birds entering their reception as Elise shimmies through the door.
"I'm so joyful to share wonderful news with you 😊," she began the post, followed by how she met her hubby.
"After being introduced by our pastor last winter, a beautiful courtship, falling in love, and lots of prayer, we became engaged. Then, on August 19, 2023, we were blessed to become husband and wife. We made a covenant of holy matrimony before our closest friends, family, and most importantly before God," she added.
"The Lord has blessed us with each other, and we are so excited to bring Him glory in our life together. It's so amazing because we were both quietly living our individual lives and in obedience to God with no idea that love was around the corner. After we met, we soon knew God's hand of providence brought us to one another. One never knows the plans YHWH has for our lives, but without a doubt, His are always the best plans! All glory to God! Love, Mr. and Mrs. George E. and Kimberly Elise McCrary."
She concluded her touching message with three Bible verses about love, including Jeremiah 29:11, Colossians 3:14-16, and I John 4:19.
Her famous friends showed their delight and support in the post's comment section.
Director and producer Tasha Smith wrote, "Congratulations beautiful! What a blessing!!!!!!" and comedian Loni Love added, "God bless your union.. you were a gorgeous bride!!!❤️❤️❤️."