Popular Philadelphia Cheesesteak Restaurant Hires Armed Guards to Protect Customers
The owners of Jim's West Steaks & Hoagies hope the measure will prevent crime.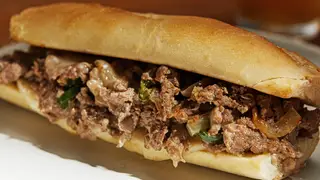 Customers of the popular Philadelphia restaurant Jim's West Steaks & Hoagies can now expect to see armed private security guards when coming for their next cheesesteak fix.
"The violence has spiked," co-owner Cortez Johnson, told ABC6. "It goes up and down. You want people to feel safe and be safe. So when they come out and eat, they don't have to worry about no type of harm."
"Our lines are down the block, so while you're standing here in line, connecting with other people you may not know, we have security right here just to keep you guys safe," said Jim's West CFO Saul Landers.
Jim's West Steaks & Hoagies closed earlier this year amid a court battle with another restaurant with a similar name. While customers are excited that the restaurant has reopened, some have concerns about whether the measures are appropriate.
"If it deters it (crime), I can't complain," said one customer from the West Philadelphia neighborhood. "I'm not a big fan of guns, but I get it."
"I'm here to protect you," said Kevon Darden, owner of private firm Presidential Protection Services. "I'm not here to cause any trouble or be that guy with a rifle."
Darden said that the guards monitoring the restaurant are well-trained.
"It's usually other agents who are sworn and certified by the state of Pennsylvania to do security work when they're off duty," he said. "All of us are former military, police, and [have a] law enforcement background."
The armed agents will be at the restaurant during business hours Thursday through Sunday.
One customer who waited in a line that wrapped around the building shared her excitement.
"The food has always been good," said Nitah Dunham of West Philadelphia. "Safety and good food is always a plus."