Watch Sheryl Lee Ralph's Children React To Their Mother Winning Her First Emmy
The original 'Dreamgirl' made history.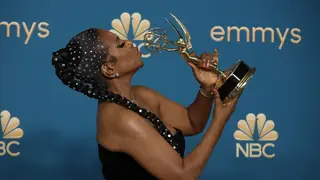 Sheryl Lee Ralph's dynamic career has spanned decades, from Deena Jones in the Broadway musical Dreamgirls to stepmom Dee in Moesha. However, she just won her first Emmy last night and no one was more proud than her two children.
Ralph became the second Black woman in history to win an Emmy in the category of Outstanding Supporting Actress in a Comedy Series. Jackée Harry was the first for 227 in 1987. Ralph was honored for her role as Mrs. Howard in Quinta Brunson's Abbott Elementary.
On stage at the 74th annual awards show, the 65-year-old belted out the song 1993 "Endangered Species" by jazz legend Dianne Reeves. She then said, "To anyone who has ever, ever had a dream and thought your dream wasn't wouldn't couldn't come true I am here to tell you that this is what believing looks like. This is what striving looks like, and don't you ever, ever give up on you."
Ralph continued, "Because if you get a Quinta Brunson, if you get a husband like mine in your corner," Ralph added. "If you get children like mine in your corner, and if you've got friends like everybody who voted for me, cheered for me, loved me, thank you! Thank you! Thank you!"
Her powerful words brought the audience to their feet, watch below:
Her daughter Ivy Coco Maurice posted her reaction on Instagram. "Oh my god, oh my god," Ivy screams,  jumping up and down with her brother Etienne Maurice. "Yes, mommy! Yes, mommy!"
Etienne also posted  a video with the caption, "I've envisioned this moment for my mother my whole entire life. We are so proud of you Mommy! You are A WINNER!!!! @ivycoco23 are in our seats crying."