Laurence Fishburne Credits Therapy With Helping Him Deal With His Anger and Abusing His First Wife
As a podcast guest, Fishburne explained that playing Ike Turner was an emotional experience he recognized from his own life.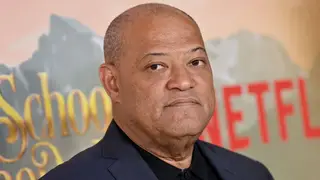 Legendary actor Laurence Fishburne was a guest on the eponymous podcast "Jemele Hill is Unbothered." He explained a bit about confronting the behavior of his past with the help of a therapist in conversation with author and podcast host, Jemele Hill.
The pair were discussing Fishburne's turn as Ike Turner in the Tina Turner biopic, What's Love Got To Do With It?  Fishburne candidly answered Hill that he could play the role so well because he once knew what it was to have similar feelings.
Fishburne told the journalist and commentator, "I was very familiar with the territory and with the emotional landscape of what, you know, brings a person to that place. Where they feel the need to be abusive to their partner."

Admitting that he felt remorse over his past actions, he explained the circumstances of his first marriage, "I got married when I was twenty-three years old, my first wife was twenty-one. And our relationship was very volatile. And I was physically abusive with my first wife, to my regret, and to my shame."
The father of three married Hajna O. Moss in 1985. The couple had Langston and Montana together. Actress Gina Torres became Fishburne's second wife in 2002, and their marriage produced Delilah. Fishburne has been divorced from Torres since 2017.
During his talk with Hill, Fishburne made no bones about the fact that having a therapist who is also a Black man was instrumental in his growth and healing. Fishburne said, "I did a lot of counseling. I found a great African American therapist who helped me deal with my anger issues."
Fishburne said he spent four or five years in treatment.
The Hollywood star also talked with Hill about the five auditions it took for him to be  cast in a play written by August Wilson, even while he was an established performer. Wilson, the Pittsburgh-born winner of the Pulitzer Prize in playwriting, chronicled the Black American experience through his Century Cycle of 10 plays, each one set in a decade of the 1900s.
Fishburne noted that the play Joe Turner's Come and Gone is his personal favorite.