Black Rochester Firefighter Says Supervisor Pressured Him To Attend Racist Party That Mocked Juneteenth
Jerrod Jones plans to file a lawsuit.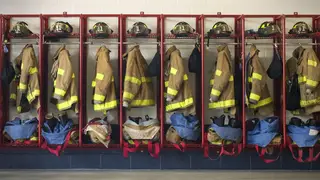 A Black firefighter in the Rochester, N.Y., Fire Department says he intends to sue the department and city over his supervisor allegedly pressuring him to attend a party in July that mocked Juneteenth and displayed racist imagery.
Local station WRGB reports that Jerrod Jones, a 14-year department veteran, announced his plan to file the lawsuit on Thursday (Aug. 11) on the steps of Rochester City Hall. Earlier that day, Jones' attorney filed a notice of claim with the court.
"It means a lot to me when I put that uniform on, and I've always wanted to represent my city in a correct manner, in a decent manner, in an honorable manner, and what I had to experience a month ago, it cut me very deeply," Jones said.
According to the claim, Jones alleged that he was on duty July 7 when his captain Jeffrey Krywy told Jones and two other firefighters that they should attend a private house party in an upscale Rochester neighborhood.
Upon entering the mansion, Jones immediately felt uneasy when he saw a cardboard cutout figure of former president Donald Trump because firefighters are banned from attending partisan political events while on duty, CBS News reported.
Jones also observed a display mocking the Juneteenth holiday, which marks the end of slavery in the United States. Juneteenth flags were displayed over buckets of Kentucky Fried Chicken. Images of city Democratic politicians were attached to stakes in the yard, and a woman wearing a red wig impersonated a local Democratic county lawmaker while performing a sexually provocative dance.
Jones said he complained the next day to a high-ranking superior in the department who vowed to take action but denied Jones' request not to work under Krywy.
Fire Chief Felipe Hernandez said city officials investigated the incident that he described as "unacceptable and an affront to  everyone who works with the RFD and in City Hall." Hernandez added that Krywy was suspended and informed of disciplinary action against him.
Jones also alleged that a senior Rochester Police Department officer attended the party, which prompted an internal RPD investigation.
Mayor Malik Evans said he's concerned that influential community members attended a racist party in 2022, stating that it's "mind boggling."
"Our community must be better than this. I call for my fellow Rochesterians to push back against hurtful racism and stereotypes that degrade members of our community," Evans said in a statement. "Join me in ensuring behavior like this is not tolerated in our city. Events like this remind us that there is much work to do to overcome racism in our society."
Jones said he plans to file a lawsuit over the incident because change is needed.
"I have two children who maybe one day will aspire to be firefighters and I don't want them to experience what I experienced," Jones stated. "I wouldn't want your kids to experience that."
Jones' notice of claim seeks at least $3 million for emotional distress and at least $1 million in compensatory damages.