From Dancehall Sensation to International Star: Byron Messia's Rise to Fame in 2023
The dancehall artist shares his story of being an adopted child from Jamaica, his musical roots in St. Kitts and Nevis, and his plans for the future with the release of his upcoming album "Sad & Famous."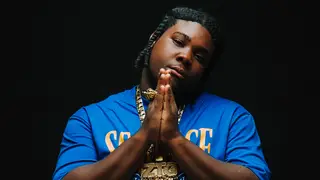 In 2023, it wasn't a hip-hop song that lit up the months of June, July, and August – rather – it was a Dancehall joint that makes you want to swing your hips back and forth.
Byron Messia's "Talibans," as you may have noticed, lit up everyone's Instagram Stories and TikTok videos and has garnered nearly 50 million views on YouTube. Still, it was just a piece of a larger and excellent work the 23-year-old dropped earlier this year.
No Love relays much of Messia's story – being an adopted child from Jamaica, growing up in St. Kitts and Nevis, and the trials and tribulations it took to start bubbling musically on the Caribbean island.
"I moved there at the age of two months," he told BET during a recent sit-down interview in New York City. "I was adopted by a loving family, caring family that showed me love, that sought the best interests for me – my aunts and uncles. Everyone was there for me. Everyone stepped to help. There's so much love."
At the age of 15, he began recording music, which initially was a slow burn but began picking up once he established the Dance-Soul genre he's now at the forefront of pushing worldwide.
"I always had a love for music at a tender age," he adds. "When I recorded my first song, we did it fluently, like we already know it was doing in the studio." That slow burn got to him, but the excitement of seeing his numbers and music translating into a larger fanbase gave him the spirit to keep going.
"It was a process to even love what we was doing at the time because at that time in one week I got 1,000 views on YouTube," he adds. "Fast forward to 2023, we've got 5-8 million views. It's so much to appreciate."
Since the release of No Love and its mega-successful hit single, the established world of music has opened up to him. Burna Boy hopped on the sequel "Talibans II," while Messia has received co-signs from Drake, Cardi B, Chris Brown, A Boogie Wit Da Hoodie, and Popcaan. According to the artist, his May-released LP was a collection of songs he had recorded over the years, assuming the position of Byron 1.0.
"[No Love] was recorded all over. We just pick some dopest tracks and put them together as a project. I have some Dancehall friends on there as well," he notes, referring to featured artists Govana, Jahshii, Rytikal, and Prince Swanny. "It was an exciting moment for me because these are the artists I also wanted to work with. The recording process for each and every song is just the same – we have a voice for people who don't have a voice yet.
"'Talibans,' we just felt that was the topping of the cake, the cherry on top of our milkshake," Messia adds.
Looking ahead, Byron Messia is slated to drop his next album, Sad & Famous, soon. He says he's "definitely improved" from No Love, yet reassures that his recording process remains the same. The project will be the first main introduction into Messia's life while building on the themes of sadness and despair from his last LP, mixed with some of the triumphs he's experienced over the almost decade he's put in recording music.
Byron is happy to see how his journey has turned out so far and is excited for what's coming up next.
"It has been a roller coaster, bumpy roads along the way," he says. "But it's surreal to me to even be here now."
Listen to Byron Messia's album No Love below.