Soul Train Awards 2023: Timeless R&B Magic: Monica's Top 5 Classic Hits That Still Steal Hearts
Take a soulful journey and relive some of her timeless singles.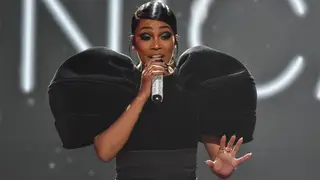 With a remarkable career spanning over three decades, R&B icon Monica has firmly established herself as a lasting presence in the music industry. Her commanding voice, exceptional songwriting, and stage presence have solidified her legendary status.
In recognition of her impact, the Atlanta native earned a nomination for the "Certified Soul Award" at the upcoming "Soul Train Awards" 2023, alongside industry heavyweights like  Anthony Hamilton, Ashanti, Ciara, Eric Bellinger, PJ Morton, T-Pain, Usher, and Ronald Isley & Isley Brothers.
This annual R&B and soul music celebration promises an evening filled with electrifying performances, celebrity appearances, and well-deserved honors. But before the big event, check out Monica's top five classic hits that continue to steal hearts.
"Don't Take It Personal (Just One of Dem Days)"

Monica's debut single, "Don't Take It Personal," catapulted her into the spotlight, showcasing her soulful voice and emotional depth.

"Before You Walk Out of My Life"

The song's soulful melody and Monica's soul-stirring performance earned her widespread acclaim and solidified her status as a certified gold artist.

"So Gone"

In 2003, Monica made her return to music with a soulful R&B record titled "So Gone."

"Everything to Me"

In this soulful ballad, Monica showcased her vocal maturity, emotional range, and her enduring appeal.

"The Boy Is Mine"

Collaborating with fellow R&B sensation Brandy resulted in the  chart-topping hit "The Boy Is Mine."

"Soul Train Awards" 2023 premieres Sunday, November 26 at 8 p.m. ET/PT on BET and BET Her.