Pew Study: BLM Tops List Of Groups Black People Find Most Helpful
The survey also finds broad support for the BLM movement.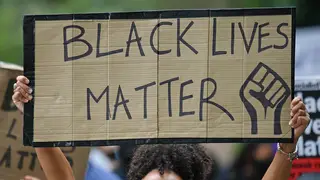 African Americans feel that Black Lives Matter has done more to help them in recent years than any other organizations or institutions, including the NAACP and the Black church, according to a Pew Research Center survey.
BLM topped the list at 39 percent. The NAACP garnered 17 percent, and 13 percent of respondents said Black churches or religious organizations have done the most in recent years to help Black people. The Congressional Black Caucus (6 percent) and the National Urban League (3 percent) were in the single digits.
Political affiliation and ideology made a difference in the perceived importance of BLM. More Black Democrats said BLM has been impactful (44 percent) compared to Black Republicans (26 percent). About 47 percent of Black liberals selected BLM, compared to 41 percent of Black moderates and 32 percent of Black conservatives.
The results came from Pew's October 2021 survey on how Black adults view their position in American society and their attitudes about social change. Researchers posed the question, which did not specify whether BLM was an organization or a movement, prior to accusations of financial mismanagement.
Conservative news outlets have accused Patrisse Cullors, the co-founder and executive director of the Black Lives Matter Global Network, of misusing the organization's funds and personally profiting from donations. Cullors has denied the allegations.
A separate survey conducted in March 2022, which identified BLM as a movement, found that 56 percent of adults in the broader public either strongly or somewhat support the BLM movement. The movement received a higher level of support, about 70 percent, among teenagers ages 13 to 17.