Tiffany Haddish to Produce Documentary on Successful Women Who Date Homeless Men
"Everyone deserves to be loved", said the actor.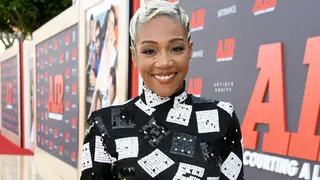 Tiffany Haddish doubles as an actress, comedian, and producer. Now she is adding matchmaker to her repertoire.
On August 11 (Friday), news broke that the "Haunted Mansion" star is "in the process" of moving two new unscripted projects forward with She Ready Productions and Hearst Media Group.
Back on June 28th, during a pre-strike interview, Haddish, who wrote about her experiences as a homeless youth at age 18 in her book The Last Black Unicorn, told the outlet that the latter is personal to her because she knows what it is like to be impoverished firsthand.
"I experienced homelessness myself and found that there was a stigma on it that I don't think should be there," she said.
Haddish, who currently stars in the second season of "The Afterparty," continued, "Everyone deserves to be loved. Everyone deserves to have someone supporting them and caring for them — not necessarily carrying them all the way. It's really important for people to make sure that they know that because it's really hard to be homeless. So many people are isolated and living on the streets alone."