Black Doctor Sues White Neighbor Accused of Hosing His Black And Latino Dinner Party Guests
The alleged assault was similar to White officers opening high-pressure hoses on civil rights activists, the lawsuit says.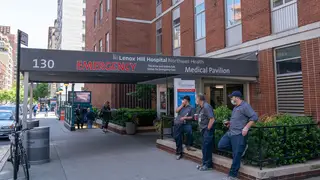 Dr. Yves Duroseau, a prominent Black New York City physician and head of emergency medicine at Manhattan's Lenox Hill Hospital, sued his White neighbor for allegedly spraying dinner party guests, who were primarily Black or Latino, at his home with a hose, reminiscent of White officers hosing civil rights activists, The New York Post reports.
Duroseau and his guests – including music executive Rigo Morales – also sued an unnamed woman who allegedly threatened them with a dog during the festivities.
At the height of the COVID-19 pandemic in 2020, Duroseau, 52, made national news when he became the first doctor in the United States to receive a vaccine against the coronavirus.
On Sept. 17, 2022, Duroseau hosted a lavish nine-course meal for 19 guests in the backyard of his Queens, N.Y., home. It was a surprise birthday party for his 48-year-old sister Rosevony Duroseau, the lawsuit, filed earlier this month, said.
According to the lawsuit, a White woman with a German Shepherd came to Duroseau's house at 9:50 p.m. and demanded that he turn down the music. They told her the celebration was winding down and asked her to leave.
After that encounter, they returned to the backyard and continued the party, which was also a celebration of Rosevony's engagement to attendee William McBorrough, the lawsuit stated. That's when Duroseau's neighbor, Marcus Rosebrock opened a high-pressure hose on the group that "was extremely powerful and stinging in nature."
Rosebrock's act was similar to what "White law enforcement officers did to civil rights pioneers in 1960s Birmingham, Alabama," the lawsuit states. One person spoke to Rosebrock to calm the situation, but he drenched her "from head to toe."
Duroseau and all his guests sued Rosebrock and the woman with the dog, alleging battery, assault, trespassing and related violations.
"Our clients deserve justice. Their civil rights have been violated through no fault of their own," a plaintiff lawyer Derek Sells told The Post.
But Rosebrock's lawyer, Brandon Gillard, said the lawsuit has no merit. "The actual facts will be borne out in a court of law – not the court of public opinion," told the newspaper. "Mr. Rosebrock rejects any characterization that he is racist or that his actions were racially motivated."
According to Gillard, Rosebrock is now a victim of alleged false allegations. He said his client receives threatening phone calls that make him fear for his family's safety.