Report: Amber Rose Was Being Used to Lure Models Into Prostitution
The actress had absolutely no clue.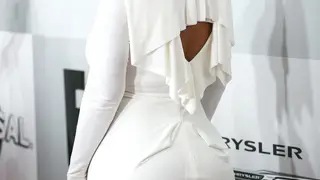 A company has been using Amber Rose's celebrity to attract aspiring models "for a paid celebrity photoshoot and clothing line" and the famous face had no idea.
According to TMZ, an Instagram ad for the company stated the Philly native was a key person in choosing the models. The interested ladies were reportedly told that a FaceTime session with Rose would be set up if they joined. Those who called did manage to see Amber struggling with a bad connection but what they did not know is that the company used an old video from the model/actress' Ustream and doctored it to fool interests.
The company went on to tell the interested models that they would be set up "on dates with rich guys," with a catch. The company would follow-up with a text, asking the model if she would be willing to be intimate. If she agreed, that would help them attract more wealthy clients.

One of the models reported the scam to the LAPD on Monday and filed a police report, claiming the company was trying to lure her into a prostitution ring. Now that is has been reported, the LAPD is conducting fervent investigations to get to the bottom of this situation.
(Photo: Imeh Akpanudosen/Getty Images)
BET.com is your No. 1 source for Black celebrity news, photos, exclusive videos and all the latest in the world of hip hop and R&B music. 
Click here to enter the #LookYourSundayBest contest for a chance to win FREE natural hair-care products.