Joe Biden Announces Policy Proposal Aimed At Black Voters
The presumptive Democratic U.S. presidential nominee unveiled his "Life Every Voice" agenda.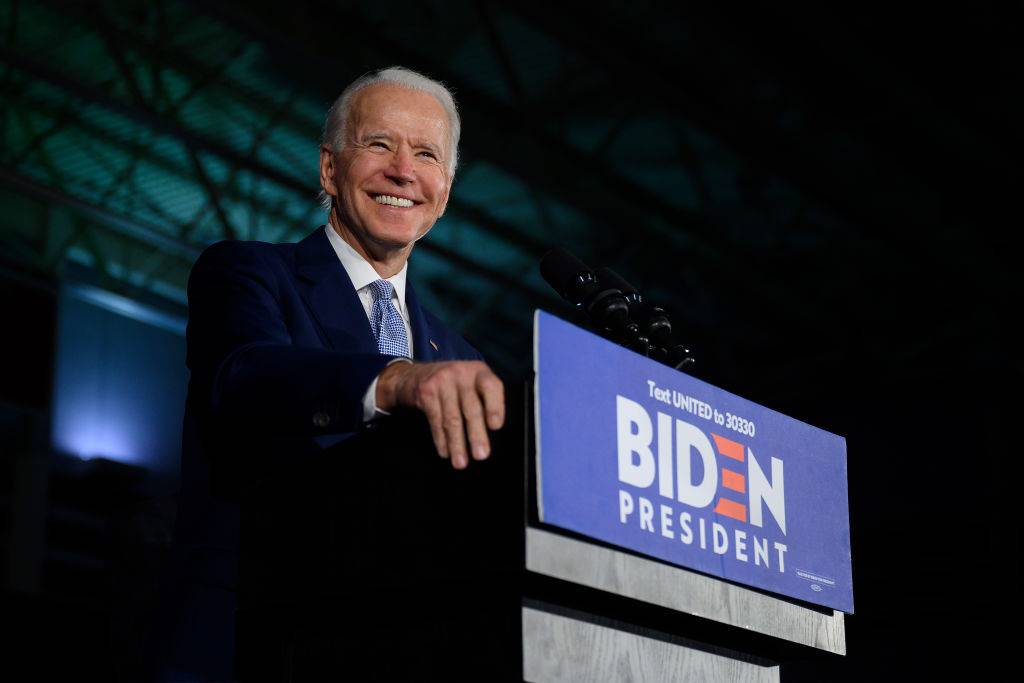 Former Vice President Joe Biden, the presumptive Democratic nominee for President of the United States, has released a six-point plan for Black America in an extensive post on Medium.
Biden, who overwhelmingly won the Black vote during the Democratic primary, begins his "Lift Every Voice" proposal by recognizing Dr. Martin Luther King Jr., and his unfinished dream of making America "what it ought to be." He then goes on to highlight the work he has done on behalf of civil rights and social justice over the course of his 40 plus years in public service.
"African Americans can never have a fair shot at the American Dream so long as entrenched disparities are still allowed to chip away at opportunity," Biden writes. "You don't have an equal chance when your schools are substandard, when your home is undervalued, when your car insurance costs more for no good reason, or when the poverty rate for African Americans is more than twice what it is for whites."
He continues, "I believe that the moral obligation of our time is to rebuild our economy in a way that finally brings everyone along. That goal has always been the core of my candidacy — it's the very reason that I am running for President. And achieving it starts by rooting out systemic racism from our laws, our policies, our institutions, and our hearts."
The former senator and vice president went on to criticize President Donald Trump's response to the coronavirus pandemic, particularly as it pertains to the African American community, which has been hit disportionately hard by the pandemic.  
"If I were President today, I would make it a top priority to ensure that African American workers, families, and small businesses got the relief they need and deserve," he says.
Biden then goes on to present his policy plan which focuses on achieving equity for the African American community within education, health care, the economy, environmental justice, criminal justice and voting rights.
Here is a preview to Joe Biden's six pillar plan for Black voters:
Advance the economic mobility of African Americans and close the racial wealth and income gap by investing in African American workers, businesses, and communities, and expanding African American homeownership and wealth building.
Expand access to high-quality education and tackle racial inequity in our education system by investing in universal preschool, closing funding gaps by race, making college affordable, and tackling the student debt crisis.
End health disparities by making far-reaching investments, expanding access to affordable health care, improving the quality of care African Americans receive, and making health equity a reality for African Americans.
Strengthen America's commitment to justice by ending incarceration for drug use alone, reducing the number of people incarcerated, reinvesting those savings in communities affected by mass incarceration, and addressing systemic misconduct in police departments and prosecutors' offices.
Make the right to vote and the right to equal protection real for African Americans by dramatically expanding the Department of Justice's ability to fight voter suppression and gerrymandering, bringing the full force of the federal government's authority to confront voter disinformation efforts targeting African Americans, and appointing a federal judiciary that looks like America.
Address environmental justice by making historic investments, enforcing environmental justice legislation, and ensuring that African Americans are dealt in on the country's clean energy future.
The presidential candidate goes on to outline the many barriers African Americans continue to face entering the middle class, and reinforces his commitment to eradicating these barriers. 
"There is much, much more to my plan — after all, the roots of inequity are sprawling, and touch nearly every corner of American policy and society," he concludes.
"We need to take serious steps to reduce racial health disparities, and we need to put an end to forces that profit off of our criminal justice system. We need to restore the Voting Rights Act, and we need to ensure that every community has access to safe drinking water. Building a more equitable nation will require a broad and coordinated push across the full scope of our government and society — but it can, and must, be done."
Read Joe Biden's full plan for Black America here.