New York Comic Con: The 4 Most Iconically Black Moments At The 2019 Event
Regina King and more were representing for the culture.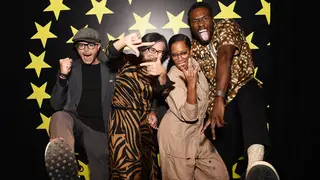 It's that time of year again, when cosplayers show out and the stars who portray their favorite comic characters show up in one place! New York Comic Con 2019 did not disappoint, especially in the Black-area.
Following up all the #MarvelSoMelanin news we got at Comic Con International: San Diego 2019, NYCC did it's best to bring representation to the east coast convention. We've decided to highlight the most iconic Black moments at the event, which includes a Regina King project that you NTK about and a natural hair panel ran by female Black cosplay influencers.
Here's our favorite Black things coming out of NYCC 2019:
The World Premiere Of HBO's 'Watchmen' Featuring Actress, Regina King

New HBO series, Watchmen, had its world premiere at NYCC, giving audiences the first real idea what this sequel series to the iconic comic is all about. Our favorite thing about this is that Oscar-winning actress Regina King will star as the protagonist, Detective Angela Abraham a.k.a Sister Night. Bonus: The Get Down's Yahya Abdul-Mateen II will also be on the show as character, Cal Abraham.

Marvel Games Announces KAMALA KHAN As Their Newest Avenger

She may not be Black, but Marvel announced Kamala Khan, the first Muslim character to star in her own Marvel Comics series via Disney +, will be the main character in Marvel's Avengers game. Kamala is a Pakistani-American teen who hails from New Jersey. How's that for diversity? #BrownGirlMagic

NYCC Showed Loved To Natural Hair With 'Kinks and Curls: Ethnic Hair in Cosplay' Panel

Natural hair had a place NYCC! This panel's focus was on styling natural hair, as well as afrocentric wigs for cosplay "while still keeping in the spirit of the character's original design." Black Cosplay influencers Eve Wilson, Anuli Duru and Daria LeGall were on site to make sure kinks and curls had a place on the convention.

BLACK COSPLAYERS SHOWED OUT

Speaking of Black cosplay, there was plenty of that to go around! To see more of the best Black cosplayers at NYCC click here.