Watch the Trailer For BET+'s Captivating New Series 'Average Joe'
Deon Cole delivers a stellar performance in a twisted, yet hilarious story that hits way ABOVE average.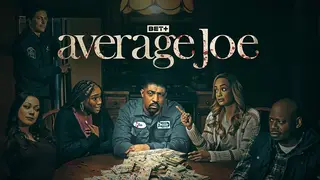 Deon Cole is mostly known for his stand up comedic hijinks and playing the "good buddy" on TV and in films. He's taking a dive into the dramatic acting pool and delivering a performance thats going to make you say, "Who dat!"
The actor stars in "Average Joe," a new captivating comedic drama premiering on BET+ on June 26 that just dropped a new trailer, and all we can say is hold on to your seat. The series is packed with tons of plot twists, scandals, and high-intensity action scenes, including Cole's dramatic flair for all things funny. What starts out as an average, mundane day quickly turns into 'oh, hell no' moments. Check out the heart-racing trailer for yourself.
"Average Joe'' is inspired by the life of show creator Robb Cullen and follows Joe Washington, a local plumber in Pittsburgh. When his father dies, Joe discovers the millions of dollars his dad had hidden and the dark, secret life that comes with that kind of money. Joe is left to lean on his friends and family for support as he figures out this mystery, but that decision could cost him his life and that of the people he loves.
The show stars Cole as Joe Washington, as well as Tammy Townsend, Malcom Barrett, Cynthia Kaye McWilliams, Michael Trucco, and Pasha Lychnikoff.
---
"Average Joe" premieres exclusively on BET+ on June 26th.